74 year ended World War II. After the defeat of Nazi Germany and its allies in Europe, Japan remained virtually the only enemy of the coalition. And, according to the law of the genre, even those countries that even could not speak purely geographically in the Japanese direction were quick to declare war on Japan. However, this did not prevent such countries from registering themselves among the "winners".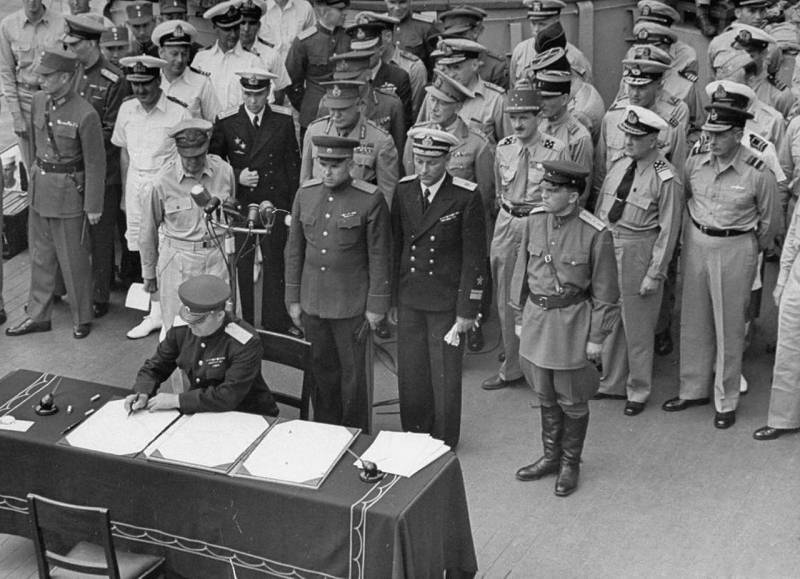 In Russia, Victory Day over Japan is celebrated on September 3.
The end of World War II, as you know, was actually preceded by a war crime of the United States of America. We are talking about dropped atomic bombs on Hiroshima and Nagasaki in August 1945. As a result of those bombings, hundreds of thousands of civilians died. However, this does not prevent the United States today from declaring that the use of nuclear
weapons
against Japan was a "forced measure." And to Japan itself (more precisely, to the Japanese authorities), this does not prevent us from calling the United States an ally to this day, although the United States continues to occupy Japanese territory, expanding its military presence in this country.
And instead of demanding to free their lands from the American military contingent in Washington, the Japanese authorities continue to experience "phantom pains" in relation to the South Kuril Islands, which, according to the results of World War II, went to the USSR, and then to the Russian Federation. This once again confirms the fact that there is no talk of any independence of the Japanese authorities or any independence of Japan. The authorities act only within the framework outlined by the United States, even if these actions run counter to the common sense and national interests of Japan itself.
Japan today is, by and large, the only country in the world that does not officially recognize the outcome of World War II. Firstly, we are talking about strange claims on the Russian South Kuril Islands, and secondly, representatives of the Japanese authorities on a systematic basis worship war criminals in the Yasukuni Temple, who were actually elevated to the face of Shinto saints.
Under the prevailing geopolitical conditions of the same Japan, which lost in the Second World War, it is necessary to remind every time about the outcome of WWII and insist on the full recognition of the results of the war - without any attempt to evade objective reality.
In particular, official Tokyo needs to be reminded of General Kuzma Derevyanko, who led the Soviet delegation at the time of signing the Japanese act of surrender. By the way, the appropriate name for the Friendship Bridge - the Kuzma Derevyanko Bridge - between the Kuril Islands and Hokkaido, if Japan really intends to sign a peace treaty and build relations, rather than dispute the territorial affiliation of the South Kuril Ridge to the applause of Washington.