SpaceX conducted the second phase of testing the Starhopper, which has traditionally been held at the company's launch facility in Texas, USA. This was reported by Elon Musk on his Twitter page.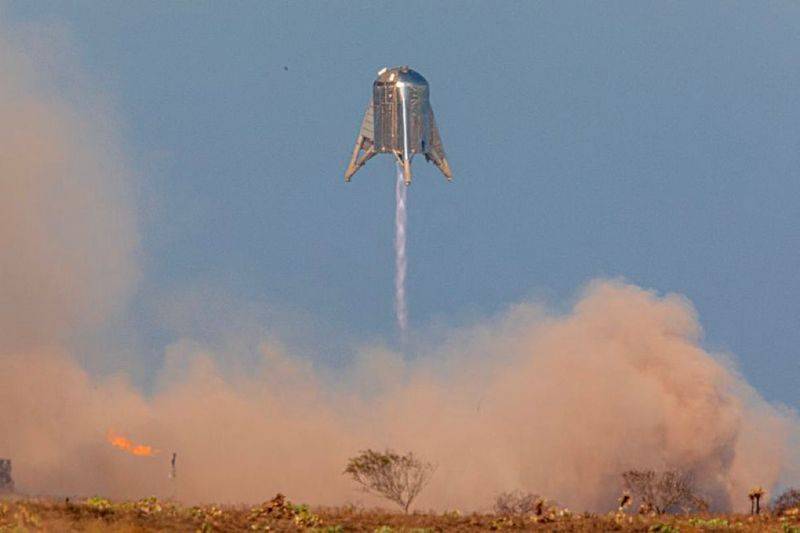 The Starhopper was reportedly tested at the SpaceX training facility in Boca Chica, Texas. During the tests, the device took to the air, and then, using its only Raptor engine, shifted 100 meters to the side and made a soft landing. The flight lasted 57 seconds, it is assumed that the device has risen to a height of 150 meters, as previously the federal civilian administration
aviation
The United States has banned the planned flight to a height of 200 meters. In the first phase of testing, Starhopper climbed 20 meters.
One day Starship will land on the rusty sands of Mars
- Musk said, congratulating the company's employees on successful trials.
It was previously reported that a total of three phases of Starhopper "air" testing were planned. At the last stage, the device should reach a height of 5 kilometers.
Starhopper is the basic version of the Starship rocket, designed to send astronauts to the moon and Mars, and in the future, space tourists. Starhopper is much smaller than Starship (the diameter is the same), but the equipment installed on it is fully consistent with the older model.
Earlier it was reported that Starship should become the largest and largest manned spacecraft in
stories
. Ilon Musk announced plans to create a spacecraft that will accommodate 100 colonists. However, the concept has already undergone several changes, so it is not known what will happen in the end.