When the USS Boxer American Uospack UDC passed through the Strait of Hormuz earlier this week, a light armored vehicle attached to the deck of the ship was seen on board. This innovation reflects the insufficient readiness of the US Marine Corps to counter emerging surface threats. This opinion was voiced by Sputnik.
LAV-25 aboard USS Boxer, August 2019
Guest on deck
The 11 Marine Expeditionary Force (MEU) decided to place the LAV-25 armored vehicle attached to it on the UDC deck in anticipation of the passage of the ship through the narrow Strait of Hormuz. This technique was discovered thanks to a photograph published by the United States Navy of take-off attack helicopters AH-1Z Viper, being in the background.
Although not a single representative of the military department commented on this practice, in December last year it was reported that the 11 Corps had already resorted to it at least once.
Speaking at the Hudson Institute in November 2018, Marine Major General David W. Coffman told the audience that he "watched the MEU commander order the LAV to be attached to the front of the take-off deck because it had better equipment than the ship, designed to detect small boats. " He called this step "creative initiative."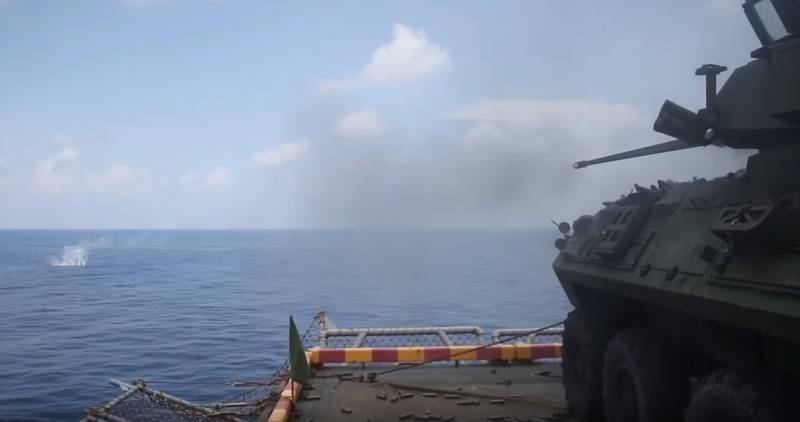 LAV-25 aboard the landing helicopter carrier, 2018 year
How an APC protects 40 000 tons
40 An 000-ton amphibious assault ship the size of a medium-sized aircraft carrier is carrying thousands of infantrymen and attached equipment, with many different sensors, radars, missile systems and other weapons systems designed to repel the attacks of various enemies. However, the microscopic LAV-25 compared to it, being equipped with unique types of sensors, plays an important role for the survival of UDC.
The Iranian Navy, as a rule, prefer to use small patrol vessels instead of large warships. For their detection, the reconnaissance version of the LAV-25, equipped with the AN / PPS-5C radar, which is used to detect artillery targets, is also suitable for detecting.
aviation
, ground equipment and enemy troops. According to the manufacturer Leonardo DRS, the radar has a range of 100 m to 27 km. Therefore, it is believed that he can identify a small vessel near the ship, which larger radars on the USS Boxer may miss.
The use of ground equipment on board warships is becoming a regular practice in the 11 hull: in October 2017, the marines fired from the deck of the USS Anchorage landing transport dock at the shore-based target from the HIMARS missile system.