Ah, how I want to return ...
Previously, as we all know well, the water was wetter, the grass greener, and the sky higher. What can we say about power - it is clear that at the time of our youth it was white, fluffy and smelled exclusively of roses. Although, of course, I turned up with roses: we have only one person chained to a paddle in a galley, and then everyone was chained to him, rowing with all his might so that our socialist galley could overtake the damned capitalist ship. And that power smelled, of course, with rude masculine sweat, not roses.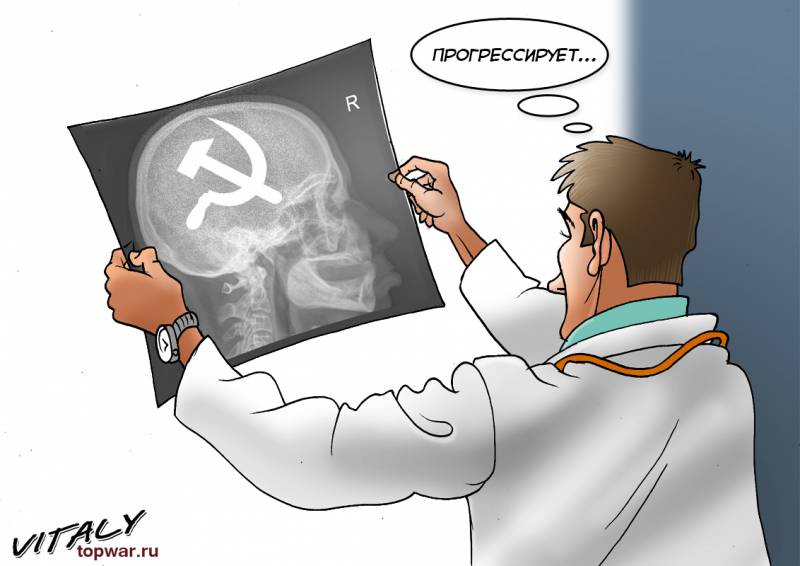 Doubt it? But a very significant number of modern Russians do not doubt it at all. According to the results of a survey conducted by the Levada Center, Russians relate to the Soviet regime during the 70-s – 80-s years better than to the modern Russian one. Our fellow citizens associate modern Russian power with crime and corruption; it seems to people distant, alien and bureaucratic.
But the Soviet power of the Brezhnev period, on the contrary, was remembered by us as being close to the people (as many as 29% of respondents think so), strong (29%) and fair (22%). Which, you see, causes some bewilderment among those who remember that era at least a little. But you can be perplexed as much as you like, and the fact that the number of Russians nostalgic for the USSR is really very large cannot be refuted.
Just in case, let's clarify: alas, dear Russians are absolutely right about the modern Russian authorities. She is really associated with both crime and bureaucracy. She, as never before, was estranged from the people, fenced off from it by fences, personal protection, secretaries and assistants. So, such sensations did not arise in people from scratch, and blaming some external forces and enemy propaganda for this is useless: deserved and attitude.
But it's still strange that people, many of whom still remember the late USSR, are trying to somehow idealize that state system and that power. Did she really deserve it?
On a booze fell from a bridge ... straight to the Kremlin
To those who sincerely believe in the good members of the Central Committee of the CPSU, in their closeness to the people, I recall how Boris Yeltsin came to power. Do you think he proposed some kind of economic program, ideas for reforming the country, excellent legislative initiatives? Not! He simply declared himself a fighter against party privileges! Maybe someone else remembers that famous PR move when Yeltsin stood in line at the clinic? Yes, it was only once, but the whole Soviet people literally choked with emotion: well, well, what a fine fellow!
Yes, at that time people very well understood how far this power was from the people and their aspirations. That the party, that the Soviet elite (I immediately apologize to those who do not know the difference) were surrounded by the same fences as the current elite. Yes, they didn't have millions, but there were separate polyclinics (and even a separate department of the Ministry of Health), there were special food rations, which included products unfamiliar to most Soviet citizens (like smoked eel, real Finnish salami and the like). True, they did not rest in the Maldives and the Seychelles. But Crimea and the Black Sea coast of the Caucasus were accessible to them, as they say, at the click of a finger, while an ordinary Soviet employee should have been very lucky to become the owner of a treasured ticket to a departmental or trade union sanatorium in Crimea.
So, then it was so boring for the ordinary Soviet citizen that it was enough for Yeltsin to stand in line once and get drunk on the Volga from the bridge so that the popular rumor instantly proclaimed him "one of us". I repeat once again: he did not remember anything else, absolutely. Stupidly hit in one point: privileges, privileges, damned communists, return our privileges ...
By the way, one contemporary figure reminds me of the unforgettable Boris Nikolaevich. It also stupidly strikes at one point: corruption, corruption, corruption! The effect, however, is a little thinner, but this comrade is slowly gaining an electoral base, right? By the way (this is no longer directly related to the topic), did you notice how much Navalny even looks like Yeltsin? He, poor, even grew a beard so that the resemblance is not so striking in the eye. But where is it: both appearance and methods are so similar that inevitably you begin to believe in the transmigration of souls ...
That is, the thesis about a certain proximity of the Soviet regime to the people, let us leave on the conscience those who "remember" it only from the stories of Kostya Semin and dad with his mother, nostalgic for the times of their youth. But perhaps the other memories of our contemporaries are true?
What about the fact that the Soviet government was very "strong"? Seriously?! Is it power that fell apart from the actions of one person? Durable?
The old woman did not suffer for long
I will give an example of lasting power. The United States and its political system are examples of lasting power. And it is noticeable right now, when Donald Trump became president. It was worth this system to identify him as a stranger, and potentially dangerous, as she instantly tied him hand and foot, not giving a step to step in a direction other than the main one. That is, there are no steps towards Russia, no recognition of the Crimea, no global deals and new zones of influence: as Washington pressed Moscow to destroy Russia (political, of course), it continues to push, and Trump obediently integrated into the American political mainstream - not a step to the right, not a step to the left ...
And how was everything with Gorbachev, remember? The "strong" Soviet power folded its arms over its chest and calmly gave up the spirit, having made a couple of convulsions just before its death. And do not talk about betrayal: it may have been, but the fact of the matter is that the system had no margin of safety at all, and the actions of a couple of traitors and one not very competent (this is still very mildly said) leader was enough for its total destruction.
As for the justice of the Soviet regime, it is difficult to say anything definite. The most humane Soviet court and law enforcement system fostered the very criminals who later arranged a terrible bloody sabbath in Russia. But for a stolen bag of potatoes they planted!
Was it fair that a color TV, and soles not suitable for foreign counterparts, cost three monthly salaries of a simple Soviet citizen? But what about the car, the quality of which was included in the legends (and in jokes), the whole family had to put aside almost a decade? Although it was not enough to accumulate the required amount - then for this machine it was also necessary to stand in line. Sometimes it's also five or six years old.
It was true all my life to dream of a trip abroad, because I really want to see the world, but never go abroad and never go? Alas, the Soviet government did not trust their citizens and believed that it was better for them to stay at home. There were, of course, exceptions, with a great desire to break out into any Bulgaria, but was it possible for romantic Soviet children who were reading out by Jules Verne?
True, there was still some justice in this matter: with trips abroad it was difficult for everyone, even for party and Soviet workers. The latter had easier with the latter, it's true, but what did they not see in that Bulgaria, which they called the sixteenth republic of the USSR?
And it was absolutely true that passports to peasants in the USSR were issued only in the 1974 year. Prior to this, alas, their situation, if it differed from the position of serfs, was not very strong ...
Yes, for some, justice looks like this: poorly, modestly, with an eye on the fattening bosses. But it seems to be no worse than that of the neighbors, but how do these bosses live there, who knows, right?
To spite mom freeze our heads!
Probably, it makes no sense to try in one article to refute all the myths that have developed with us about the USSR. But it is still necessary to remind of how it really was. About "closeness to the people", about "justice", about the "friendship of peoples" and the like ...
But nevertheless, it is necessary to remind the current authorities that for the most part, such sentiments are only a completely logical reaction of the most infantile part of our population to her, this very power, mistakes and shortcomings. You see, dear rowers, our comrades, no matter how ridiculous the children's sound is: "I'll go outside and spite my mother's frostbitten ears", he'll go and freeze! To spite you will go and frostbite!
Only now there are many millions of such "children": we remember only the good, hate everything that is happening around here and now, and are ready at least somewhere, even to hell with horns, if only to stay away from the shame that surrounds you and what You doing.
And we already have boys with magic pipes, ready to lead this mass of people. They work on the leading television channels of our country, go on air in unchanging red shirts, speak beautifully and smoothly, as they taught at an American university - in general, they can captivate someone.
And then we will go back to the past. But since almost no one already remembers how it was actually managed and done there, we get, as usual, a parody. Or a tragedy.
And you continue to notice only Navalny ...