In the hands of one of the American resources, writing on military topics, got part of the presentation, which captured the appearance of a new hypersonic system
weapons
.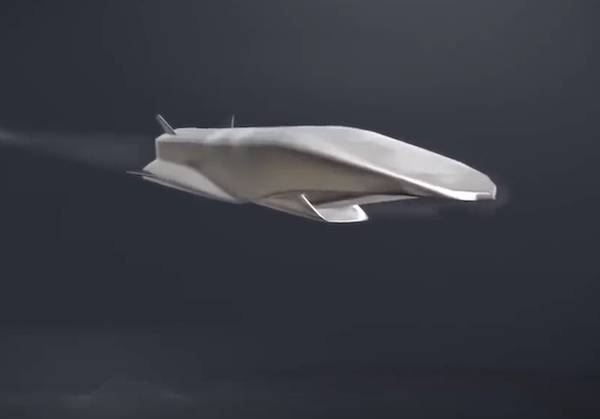 Breaking Defense Edition Published
image
, which is part of the presentation of high-tech priority US military programs. The slide, which was shown at a conference in Honolulu, presents a schematic image of a hypersonic Weapons System (HWS) ground-based hypersonic missile.
The report, which included this presentation, was read out by the head of the United States Army Rapid Development and Critical Technologies (RCCTO) Lieutenant-General Neil Thurgud. This newly created structure deals with high-priority programs, in particular, hypersonic, space and laser weapons.
According to the Breaking Defense portal, Thurgud touched on information about the new missile weapons only in passing. The main conclusions can be drawn from the presented frame and previously published information.
How does the new hypersonic weapon
The main element of the missile system will be the Common Hypersonic Glide Body (C-HGB) hypersonic warhead. Up to the desired speed, its acceleration will be carried out by a solid fuel booster.
The start will be from the 10-meter launch canister. As standard, the Oshkosh M983A4 can accept two such starting blocks. The standard AFATDS system version 7.0 will be used as the fire control system.
Preliminary, system tests should start in 2021 year. According to the available information, the complex will be put in advance in the rocket-artillery unit, in which they will be tested so that the military who will serve it will become familiar with the system on the spot.
During his speech, Neil Thurgud stressed that HWS is a strategic weapon, not long-range artillery. According to him, the US Armed Forces are currently developing several complexes of hypersonic weapons.
In 2021, Americans are going to test mobile laser
Also General Thurgud spoke about other developments of advanced weapons, in particular, about weapon systems with directed energy.
First of all, we are talking about systems of microwave and laser weapons that can cheaply destroy mortar and artillery shells, rocket volley fire systems and small UAVs.
The problem is that both lasers and microwaves have limitations. For example, their effectiveness in massed shelling or royal attacks is low.
Lasers can destroy an object quickly. However, if there are many such objects, it will become a problem. However, to destroy walking one threat would be better than to show a zero result.
- emphasized Turgard in his speech.
The new 100 kW mobile power laser mounted on the Stryker 8 × 8 BTR, the army is going to test in the same 2021 year as the rocket. In addition to the Stryker, the military will conduct additional testing of the system on the powerful HEMTT truck.