The notorious Victoria Nuland wants to introduce new sanctions against the Russian Federation. In addition, Nuland has planned measures that will allow the US to fight with Russia in the Internet space.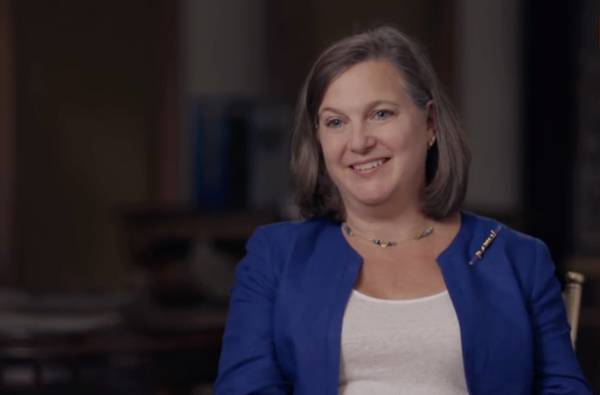 According to Western media reports, diplomat Victoria Nuland, who was remembered by the Russians by actively visiting the Maidan and distributing cakes there, at congressional hearings suggested in response to the "hostile policy of Russia in the Internet space" to introduce a new package of sanctions and to appoint a cyber king (cyber- tsar) - Coordinator for the cyber security policy of the presidential administration in the United States.
What will cyber king do?
"Cyber-king" should be engaged in the organization of activities in this area from the standpoint of both domestic and foreign policy. It is assumed that a joint operational intelligence center will be established in parallel. According to Nuland, such a policy would allow
expose, defeat, and contain digital influence campaigns, limit election manipulation, and also help to "develop initiatives in the field of raising public awareness in the field of cyber security
Nuland is also actively promoting the idea of ​​preparing a preventive sanctions package, agreed with the allies of the United States, and publicly announce possible measures. Such a move, according to the diplomat, should warn Russia against repeating "interference in presidential and other forms of elections." Recall, the US security services accuse Russia of such actions, allegedly committed in 2016, during the presidential campaign of Clinton-Trump.
Carrot and stick
Nuland considers the "gold standard" to be the policy of the times of US President Ronald Reagan, in whose administration she once worked. In her opinion, the White House of those years adhered to the position of "carrot and stick" - was ready to resort to extremely tough measures on the one hand, but at the same time left the doors open for cooperation.
A similar policy, in her opinion, should be followed now, offering as a "carrot" the abolition of sanctions, a truce and the possibility of setting common digital standards. However, the Kremlin will receive "encouragement" only if it is a "good boy" and gives up the Internet as
weapons
. However, Nuland does not particularly believe in Russia's readiness to meet the United States. And in the US readiness to meet Russia?
The diplomat also noted that "Moscow's digital aggression is undermining the democracy of the United States and its allies." Nulad gave her speech at a meeting of the committee on international affairs, which bore the saying name "Confronting a resurgent Russia".