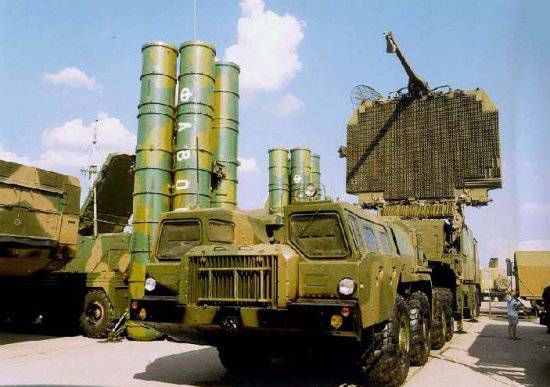 Russian President Dmitry Medvedev has decided not to sell the modern
weapon
- С-300 complexes - to Iran. In the Obama administration, this is being presented as dividends of "resetting" relations with Russia. And although the administration did not directly offer the Kremlin a quid pro quo (literally "who instead of whom", in this case, "exchange of services" - approx. Lane), Moscow will expect steps from Washington in response to a careful shake of Obama's outstretched hand.
Both Obama and Bush begged the Kremlin not to comply with the 2006 agreement signed in 1 for nearly a billion dollars to sell C-300 air defense systems to Iran, and on Wednesday Medvedev officially announced that the deal would not take place.
Analysts at the White House view Russia's decision, which, according to Kremlin scientists, comes from Medvedev himself as a new dawn in relations between Russia and the United States and a significant step in further isolating the regime in Tehran. A senior administration official, speaking for The Cable, noted that Moscow's refusal to sell the C-300 missile systems and a number of other advanced weapons is an important decision, because imposing sanctions against Iran is more expensive for Russia than for the United States.
"For the last two years they have openly told us that this is not an equal transaction for them, and that we adhere to different criteria in assessing the threat from Iran," the official said. "It was a bold, meaningful decision for us that shows how important the" reset "with President Obama is for Medvedev."
Officials explained that the Obama administration had made it clear to Medvedev and other Russian officials that selling C-300 to Iran was a red line that could not be crossed. This issue was raised at every high-level meeting between the two countries. Israeli officials did the same in meetings with their Russian counterparts.
The question was raised in July during Medvedev's visit to Washington. Two weeks ago, he was again discussed during a visit to Russia by the senior director for Russia from the National Security Council, Michael McFaul, and Undersecretary of State William Burns. Defense Secretary Robert Gates pressed on Russian Defense Minister Anatoly Serdyukov, discussing this issue during his visit to Washington last week (along with the lingering possibility of Russia selling missiles to Syria). Hillary Clinton met with Russian Foreign Minister Sergei Lavrov on the sidelines of the United Nations General Assembly on the day when the deal was abandoned.
Why, after long years of work, did the Russians finally decide to thwart the arms deal? Washington assumes that they have something that Moscow really needs and that Moscow believes in the readiness of the United States to help. Russia is fighting for maximum US support for their applications for accession to the World Trade Organization (WTO), and Moscow plans to complete this work this year.
"The momentum for accession to the WTO is what they see as the goal of the next big talks with us. We are exactly in the middle of it. This is asymmetrical because it is more in their interest than ours. However, I think we should do it, "said the administration official.
But, according to the official, the Obama administration did not ask Russia for a service and did not, in turn, promise any reciprocal steps. The idea is that relations with the United States become more valuable to Russia than their contacts with Iran, and both countries should act in their own interests.
"In fact, the goal is not to develop good relations with Russia, but to promote our national security, economic interests and the promotion of universal human values," the official said.
However, experts' opinions on how Russia is related to this step are divided: should this be considered a success of the "reset" policy, given that Russia continues to assist Iran in other issues and remains in confrontation with the West while continuing to occupy Georgia?
It is clear that the United States and Russia are currently cooperating on key issues such as Iran, more than before, and that the Obama team has made the issue of selling weapons to Iran a priority in its relations with Russia. What in this case pushed Russia to the last step? Perhaps there was a combination of factors: the desire to obtain further concessions from the United States and the deterioration of relations with Iran. Tehran is protesting against the decision of the Russians; The commander-in-chief of the Iranian Armed Forces called the decision "illogical" because, according to him, this is not within the scope of UN Security Council Resolution No. 1929.
However, some skeptics believe that Moscow has not yet made a strategic decision to abandon Iran in favor of developing relations with the United States.
"Let's wait a bit before opening the champagne," said David Kramer, who was Assistant Secretary of State for Democracy and Human Rights under the Bush administration. He appreciated the actions of the Obama administration, which forced the Russians to refuse to supply C-300, but noted that Moscow is still cooperating with Iran in Bushehr, where there is a nuclear reactor. The Russian company Lukoil could undermine US energy sanctions. Perhaps even Russia's accession to the criticism of US and EU sanctions against Iran, expressed by Brazil, India and China.
Kramer in the review articles for the Washington Post also strongly criticizes McFaul and Burns for not actively condemning the arrests of Lev Ponomarev and other Russian human rights activists that occurred on the eve of the meeting.
"Alas, it is unlikely the Obama administration will speak the truth about Russia as long as promotion of the" reset "of relations with Russia is one of the main foreign policy successes. Worse, representatives of the administration have repeatedly rejected the link between the struggle for human rights and the problems of relations between the United States and Russia. This is a signal to Russian officials that their behavior will not entail consequences, "Kramer writes.
A senior administration official responded to Kramer's article. In an interview with "The Cable," he directly objected that the Obama administration is not silent about human rights violations in Russia.
"We are not playing this game. We are not silent on democracy and human rights issues in order to get their concessions on C-300. The evidence is clear. We do not retreat from our word. We have published dozens of statements about non-observance of human rights in Russia, the official said. "This is what we call two-way interaction."
The administration abandoned the diplomatic practice of "linking" when US gestures were associated with the corresponding steps of Russia. They are convinced that deepening cooperation with Russia will have side benefits in various fields, and progress will be gradual.
"You should not expect that behavior will immediately become constructive and enlightened just because the United States declared a" reset ", said Samuel Charap, a researcher at the Center for American Progress. "Russia is still Russia."
Russia's refusal to respond to international appeals during the war in Georgia in 2008 showed that Moscow believes that they will not lose much in defiance of the West. "They don't care what Washington thinks because they haven't put anything at stake," Charap said. "From our side, cooperation in political debate is sometimes viewed as an endorsement, which is a legacy of the Bush administration."
Other experts on Russia saw in this step a sign of Medvedev's foreign policy success and of getting out of control of Prime Minister Vladimir Putin, the former president, who signed a deal on C-2006 in 300.
"This seems to be an independent statement by Medvedev. At first glance, the American policy of encouraging Medvedev and ignoring Putin seems to have strengthened his position in this case, "said Alexandros Petersen, a senior fellow at the Atlantic Council.
But although the Obama administration does not see a direct connection, the Russians certainly want something for their efforts. A statement on C-300 states that Russia can lift the ban at any time. This means that if the White House wants the "reset" to progress, it must continue to make concessions to Moscow, such as the agreement on civilian nuclear energy, which the Russians advocate, but the opposition is opposed to it in Congress.
"I think this is what they will try to get, and if they don't get something significant in return, we will see a departure from this promise," said Petersen.