Как
сообщает
Syrian news agency Sana, 23: 15 Syrian time (00: 15 12 January 2019 Moscow time) Israeli warplanes, unexpectedly entering the Syrian airspace from Galilee, attacked targets in the Damascus area with missiles.
The Syrian air defense forces began to respond, but traditionally with a delay, rather clumsily and irrelevantly - apparently, all Israeli aircraft (as almost always) were able to safely and without falling into their bases.
Why did the Syrian radar once again not see the advance of the approaching Israeli aircraft and did not intercept them at the time of approaching the target, it is difficult to answer at the moment. In addition, judging by the available information, the C-300 complexes supplied from Russia to Syria for unclear reasons have not been involved in the reflection of the air attack (let alone the C-400 complexes located in the Russian Hmeymim area).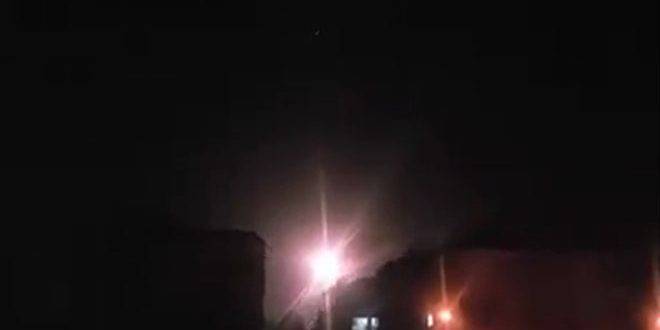 Syrian air defense reflects Israeli attack
aviation
in the sky over Damascus
Judging by
communication
According to official statements from the Syrian side, most of the state-run broadcasting centers of Syria were shot down by Israeli pilots. In total, according to various sources, about 8 missiles were intercepted, but the 1-2 of the released ones still hit the target - a certain warehouse in the Damascus airport zone (it is quite possible that, like in previous times, cargo of an unknown destination, delivered by flights from Iran).
Civilians, like the Damascus airport complex itself, were not affected by the air strikes, and already approximately at 23: 58 (00: 58 12 in January Moscow time) from there flew the board of Syrian Air, which proceeded to Bahrain.
The Israeli Defense Ministry has not commented on yet another air strike on the territory of a neighboring state.