The US forces predict a defeat in the event of a large-scale war with Russia to the naval forces, or rather their parts - to the carrier groups. This conclusion was published in the American edition of The National Interest, and representatives of the Center for Strategic and Budgetary Evaluations in Washington came to this conclusion. Statements made in the format of the report, in fact, cause some bewilderment, primarily due to the fact that in the United States itself the fleet is called the most powerful in the world.
Did the USA question superiority? .. Or do you just need more money from the budget?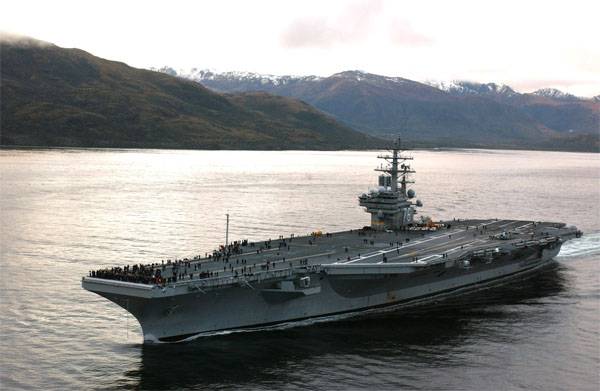 So, the speakers state that the carrier-based strike groups (AUG) of the United States Navy do not have sufficient survivability and range in solving operational problems. It is noted that there is no specialization for the existing modern weapons of the enemy. At the same time, the enemy was initially declared Russia. Also in the list of opponents - China.
From the material:
The AUG wing was modernized, but the range of the new aircraft is such that it is much lower than the range of missiles, not only Russia, but also China.
It is noted that Moscow and Beijing also possess weapons that can destroy not only AUG planes, but also aircraft carriers themselves.
What is the end result?
This is a proposal to reduce the number of aircraft carrier strike groups from 10 to 8 due to the economic inappropriateness of use, or to increase the intensity of the development of promising carrier-based fighter aircraft and strike (deck) drones. According to plans, the commissioning of such
aviation
technicians are planned by 2040.
Earlier, Chinese media published an assumption that by the end of the year, the modernized aircraft carrier Liaonin (originally a Soviet project) and Type 001A (Chinese development) could enter the sea. This information is not officially confirmed.