Independent expert Charlie Gao in his article for
The National Interest
appreciated the Russian flamethrower systems "Buratino" and "Sunchip".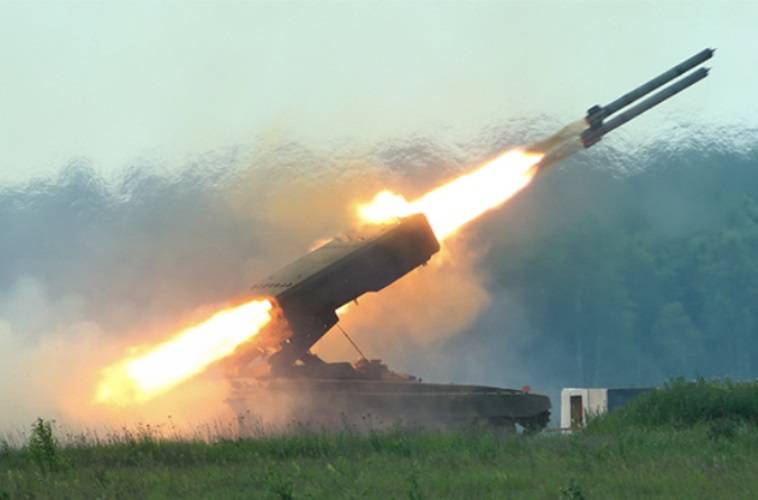 The author recalls that these "deadly" systems are equipped with unguided thermo-pressure and incendiary missiles. And the important task of the developers was to create
weapons
capable of delivering these mixtures over long distances. The resulting base combat vehicle
tank
- The result of research by Soviet engineers who studied the possibility of improving the operation of the flamethrower. She became the most terrible weapon on the modern battlefield.
Armored vehicle launcher can be rotated 360º, which greatly simplifies guidance. And the chassis of the T-72 tank allows you to move it at the same speed as the armored units that need protection.
The expert also pointed out the high speed and accuracy of the missiles, which, in his opinion, is a key advantage of TOC over traditional systems (MLRS) equipped with incendiary or thermobaric ammunition.
Later TOC-1A "Solnticek" is an easy upgrade of "Buratino", which is designed for the use of long-range missiles that hit targets at a distance of up to 6 km. He also has an armored launcher, although this is certainly a weak point compared to the hull, writes Gao.
According to him, the TOC crew is much better armed than the crew of a conventional tank. At his disposal is the RPK-74 machine gun, half a dozen RPG-26, two Kalashnikov assault rifles and fragmentation grenades.
All the above features have made the TOC-1 "Buratino" and the TOC-1A "Sunpinek" a very popular weapon among the armies of the Middle East and North Africa, concludes the expert.