Very grateful to the author of the article.
"When otvetka" does not work "
. The man raised an important and necessary topic, although he was somewhat overdone with the "uselessness of Russian nuclear weapons". However, not everything is as fun, healthy and rosy as many people think when they look at Russian mobile missile systems during the 9 May parade on Red Square.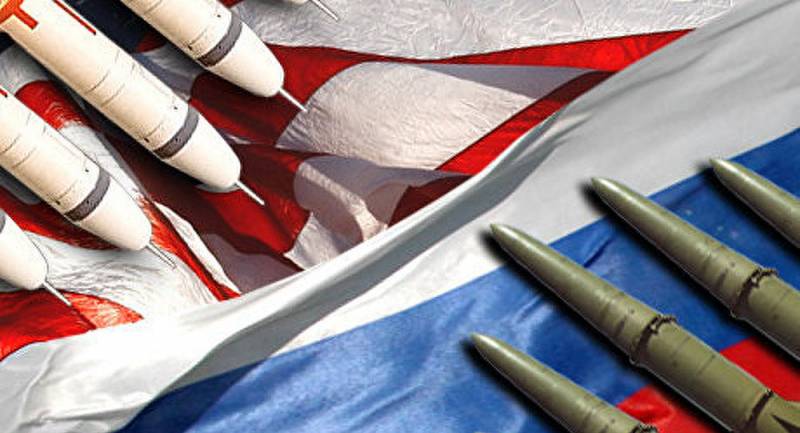 The author in no way wants to impress the audience with the depth of the strategic analysis of a hypothetical nuclear exchange, and he does not have access to such information. This is a little about something else: Americans should not be considered as such naive people, and even idiots, as we sometimes do. They are well aware of the depth of the problem of the Russian nuclear retaliatory strike and are actively working to neutralize this very problem. Step by step, and yet ...
History
About the withdrawal from the ABM Treaty, we heard everything, it was written on this subject even too much, to go deep once more is simply meaningless.
In general, it is worth noting that, as a rule, the authors of all models of nuclear strike exchanges and their consequences do not take into account two unfortunate factors: secrecy and disinformation on both sides (which is normal and natural!), And the fact that almost nothing to war
never
It does not go strictly according to plan. That is, the process of exchanging nuclear strikes is very difficult to predict and unpredictable, and it is unprofessional to give here some kind of reinforced concrete guarantees (both from the other side).
It's about how to take and predict the first large-scale airplane battle before the WWI /
tanks
. That is purely theoretical and hypothetical. On paper. It is senseless and incorrect in the general case, although it is very interesting for the general reader.
So, in any case, it is not necessary to consider the opposite side of openly falling into insanity and laugh at its actions: first, we have repeatedly stated that the missile defense system created in Europe (and in Alaska!) Does not carry any threats (at this stage!) The Russian Strategic Nuclear Forces, and then suddenly, Mr. Putin showed the general public about "cartoons" about all kinds of "hypersonic miracles" there. Why did it happen? Or do not they tell us everything? Of course, not everything, but somehow, "not very much."
It seems that today the real situation in this field and the idea of ​​the "mass audience" about it diverge very, very seriously. I remember back in the beginning of 90's (!), Leafing through magazines in English, was intrigued by the announcement: there was an active search for specialists to develop new / effective methods for detecting nuclear submarine rocket carriers in the ocean depth. And this
after
the collapse of the Union. That is, they are working on the "problem" for a long time and seriously, without interrupting. Do not overestimate the degree of their "naivety."
They love themselves and know how to take care of themselves. And the situation of "nuclear parity" of their
never
not satisfied. And they
always
worked and continue to work on eliminating threats from the Russian strategic nuclear forces. Enviable constancy, is not it? That is the most logical way to proceed from the option when they seek to reduce the ability of Russia to retaliate against its territory to zero.
It is from this point of view that their foreign policy in general and foreign policy in particular in Russia should be considered. In principle, this "policy" looks clear, understandable and logical. Try to take the stand of the American foreign policy leadership and imagine exactly what actions you would take to "neutralize the threat."
The very first thing that comes to mind is to "pull apart" the Russian military potential by neighbors. Well, that's it. Military resources of any state are not unlimited. And the military resources of Russia should be redirected to the neighbors. That is, the deterioration of Russia's relations with its neighbors is conducted from the American side absolutely purposefully and has a very deep strategic meaning. Most of all, Russia would be satisfied with neutral Georgia, Ukraine, the Baltic states - trade, business, tourism, energy, transit. In principle, something like this and talked when these countries received "independence."
But it turned out something completely different. Does Russia "prevent" them from cooperating with the same West? For God's sake! If the super-progressive West wants to build a "heavenly life" there, then how can we interfere? We will envy! But somehow it quickly became clear that they were not going to build any "paradise life" for the US / EU, but the military programs are yes. "Educational" too - one must explain to the Aborigines that Russia is bad and the West is good.
Why is there no such thing as "respect" for the so-called "independence" of limitrophes in principle? They do not control their own territory and actively "trade the frontier". That is, if there are American military in the territory of Estonia or Georgia, then in principle there can be no talk of "respect for sovereignty". It is technically impossible. American forces / special services, acting from these territories, are not going to ask permission from local governments for obvious reasons.
They are going to act (for obvious reasons) against Russia (well, there are Iran, China). What the hell sovereignty is? Today, both Georgia, Ukraine, and the Baltic are "border-conflict" territories, where military confrontation takes place instead of business and tourism. And this creates enormous problems for Russia, but not for the United States. After all, if the USSR was spending huge money on "communism off the coast of America", then the United States does not deal with such nonsense in principle.
The beauty is that they keep these "cayers", and they don't feed them and are not going to feed them. That is, US military-political intervention creates gigantic economic and political problems for limitrofs and serious problems for Russia, and the United States has no net profit from this without incurring costs.
Under what scenarios, for example, would Russia be ready to respect the "sovereignty" of these very "mini-superpowers"? Under the conditions of 100% guarantee that no activity hostile to Russia will be carried out from their territory. So who can guarantee this? Lithuania? Georgia? Estonia?
But there is no "normal" diplomacy in this case, in general, no. The political concept of a new Europe clearly states that the West is always right, and Russia is always wrong by definition. That is, in military and political terms, America is a god, and they do not argue with it. Therefore, we don't get any "honest discussions" that they are not going to explain something to us, report to us, keep the word given to us, and so on.
One can endlessly talk about certain "friends of Russia" in the very same Italy, but in fact (sad fact) this country is a member of NATO and constantly votes to extend sanctions against Russia. In general, the author sincerely wonders about why in our media space we are constantly trying to create the appearance of having millions of Russian friends in Europe. What for? For what purpose? So that we do not have so lonely long "sanctions" evenings?
De facto (and the Skrypal's case this clearly showed) the whole "civilized Europe" is ready (even in Brekzit's conditions!) To dance to the Anglo-Saxons' tune. That is, the degree of hatred towards Russia and everything Russian is such that even Brexit (and this is a serious conflict between Berlin and London!) Is separate, and the "containment of Russia" is separate. So it goes.
We have a "Skrypal Cat's Case" fun laughing, and, by the way, for good reason. This very "incident" demonstrated the complete readiness of Europe to support even the most absurd / absurd steps against Russia. When everyone knows that this is a blatant lie, but openly (almost all of Europe!) Supports this. I just can not understand why in Russia they laugh at this - there is very little funny here. And training of pilots of "nuclear-free" NATO countries on the use of nuclear
weapons
just a very, very disturbing signal. Why do they need it?
Europe is not why not. Too much. But from the US point of view ... unleash
any
a major conflict in Europe is great and commendable. The limited war in the European theater with the limited use of nuclear weapons solves, if not all, then very, very many American problems. It should not be forgotten that the USA became the world superpower only and exclusively as a result of two world wars (first of all in Europe!), And they remember it well.
What do Europeans remember? I do not know, to be honest, ask them. The version that the Americans are supposedly "afraid" of good relations between Russia and Europe is allegedly widely voiced and that every time it happens, an alarming red light comes on in Washington. Stay at it. Good relations between Russia and the EU are impossible by definition, "good" ones too.
The maximum possible - "cold trade". The Americans are very skillfully and competently driving the Europeans into a state of military confrontation with Russia. They need "cannon fodder" on an industrial scale, and they create it. That is, even if "Russian paratroopers suddenly land on the outskirts of Berlin," no massive nuclear strike on Russia in pursuance of 5 will follow the articles of the NATO charter (author's opinion). You do not consider American leaders "noble suicides"?
To arrange an "honest" "exchange of blows from the SNF" from the Russian Federation, all these "jumps and grimaces" are absolutely not needed. What do you think, after a nuclear war, will they have at least some significance for the cause of its beginning? Were these reasons noble or dishonest? Americans are not suicides and this option is not considered a full-scale war.
That is why they work with Europe, that is why they work with the former. republics of the USSR. No, if a person sincerely believes in nonsense about the promotion of a certain democracy, then it is useless to explain to him. In fact, before the Maidan-2, a microbiological American laboratory worked in Ukraine, as in Kazakhstan ... as in Georgia. That is why NATO is heading east. That is why, at the time of the conflict in Ukraine, the Bulgarian (!) Slovak Slovak conscripts were being tested. They need cannon fodder, no more, no less.
And in the role of such "meat" should not just separate units, but entire countries. The clearest example is Georgia. Small, poor, agricultural country. For some reason, the Russian contingent of peacekeepers attacked ... And even then, the then "first-fought" government of Ukraine tried to drag the Square into the very same war (not necessary for it). Speaking of birds and "economic assistance". So "birds", that is, propaganda
much
more effective direct economic assistance. Apparently, one dollar spent on propaganda brings in much more than a hundred dollars spent on direct economic assistance.
It is not at all clear who we "fooled" by helping the "fraternal" Ukraine. The Americans needed to get cannon fodder on the borders of Russia, and they got it. The fact that the Ukrainian economy went hand in hand with this is not at all important for them. Here we laugh at the low fighting qualities of the Ukrainian army, and in vain. From the "meat" is often not required high combat qualities. What for?
The role of Ukraine - at some point to provoke (try to provoke) a big war in Europe. That's enough for them! Ukraine has the honorable role of a potential kamikaze. Not the fact that she was pushed there, but ... the possibility remains. The APU is essentially a gang of scumbags. But! But! The variant with their promise to the territory of Russia is quite real. Well, were there any shelling? From the Ukrainian territory? There was a sending of sabotage groups. There was a demonstrative seizure of the Russian ship.
And you need to understand: the response of Russia and, for example, mass casualties among the Ukrainian military (in the case of an attack on the Crimea, for example) does not frighten anyone in Kiev and does not stop. The more Ukrainians die - the louder you can scream about the Russian aggression ... If it was decided to sacrifice the whole of Ukraine, the death of several hundred / thousand of its servicemen is generally a trifle.
But this "trifle" can play the role of a "Skripal cat" and serve as an excuse for the start of certain military operations. Actually ... it's sad here. No, the author is not going to shed some "crocodile tears" about the "fraternal Ukrainians", this is not the case. The "configuration" with the "former brotherly Ukraine" has been extremely unfortunate. And now, it seems, only now they are beginning to understand this at the top.
Hope to "stabilize and negotiate" finally buried Petro Poroshenko and his ilk. We (unlike the Israelis / Anglo-Saxons) have this instinct, in a difficult situation - to negotiate. Well, negotiate. Flag in your hands. With the junta and other scumbags. Once again: the task of the glorious "ukroarmia" is not to smash the RF Armed Forces or even create problems for them, no. Everything is much simpler, and even an African-type army will cope with this task. Their task: to provoke a conflict at the right moment, with their own losses
only welcome
...
Are you still laughing at APU?
Despite the frank military defeat, no one left Georgia alone. And there, too, "everything on the ointment." At the right moment, the Georgian Armed Forces easily organize the necessary "picture" of Russian aggression. "Win" at the same time no one sets them the task. That is, the Americans are not satisfied with the direct conflict with the "nuclear superpower" that interests them, no, why? We have a "conflict with Ukraine", "a conflict with Georgia" ...
Some TV channels invite some interesting personalities from Ukraine and Georgia for "TV debates", and we hear how it could be wonderful ... Supposedly in Georgia we are loved, and in Ukraine many are not bad. Well, why all this nonsense? For what? It is clear to everyone that at the first click of the State Department's fingers we will have armed provocations on the border. Why talk to them about anything at all?
What is this imitation of the political process? I am wrong? Well, then try to organize similar "discussions" on Ukrainian or Georgian television. Let's see what you can do and what will be done to you. And by the way, is a similar "discussion" possible on the Baltic "tivi"? And why not? Language is not a problem: both we and many of them have television / policy professionals who are fluent in English (Mutko won't let you lie).
The trouble and tragedy are precisely in this: we cannot influence the situation by non-military methods practically in any way. We do not have "serious contact" with these countries. We have no influence on them. De facto no. Before the attack of the Georgian army in 2008, Putin had repeatedly contacted Tbilisi and warned how this would end. So what helped? You see, the Americans didn't care (by and large) how Saakashvili's escapade would end. In any case, they would have won. We also somehow do not fully understand. Americans were
not on the side
Georgia, they just used Georgia, and they
lose
could not. Either Russia is the aggressor, or Russia suffers a humiliating defeat. One out of two.
And even then, Ukraine was actively trying to participate in all this madness. The state and the people of Ukraine this (alien!) Conflict was not needed for nothing. However, the pro-American leadership (and pro-American elites) were actively dragging out the country there. Well, and delayed in the end. That is, this very "drawing into a conflict with Russia" began much earlier than Poroshenko became president. And even much earlier than Yushchenko became.
It was very difficult to say how it was possible to work against this: all these years, under the banner of complete independence, Ukraine has been preparing for a conflict with Russia. The most interesting situation with the Baltic countries: they were accepted into NATO, despite the fact that they had unresolved territorial disputes with Russia. Although the NATO statute directly prohibits doing ... That is, here the role of the "new members of NATO" was to become a potential "rag soaked in gasoline."
And as a result of this step, NATO did not just go to the borders of Russia, no, it went to the "controversial" borders of Russia. The influence of the West in the Baltics was such that one word was enough, and Tallinn / Riga would quickly sign border treaties with Russia to join NATO / EU. But no one set such conditions.
Most recently, Kazakh reserves were arrested (which for some reason were kept behind a hill). And Nazarbayev very quickly rushed to a meeting with Trump, where he was given (and accepted) very harsh conditions. And the policy of Kazakhstan and before the voyage could not be called pro-Russian. The trouble of all of Russia's neighbors is that the US is not going to create anything there. They need these same countries as cannon fodder against Russia.
And almost everywhere the United States supports extremists / nationalists. Simply, they need "specially trained idiots" who will fight with Russia. In this case, the task of "winning" they are not assigned. Some naive personalities claim that Russia is not going to fight with Georgia, Ukraine, the Baltic states ... It is so, it is certainly so. And the Americans are well aware. Therefore, the conflict is created artificially. This is what American diplomacy works for. To create a "burning border" for Russia.
It is precisely this goal that is pursued, for example, by the constant insulting cries of Mrs. Grybauskaite. Provoking conflict from scratch. From the point of view of the interests of Lithuanians, Georgians, Kazakhs, Ukrainians and other Estonians, all this is not necessary for nothing. In the sense of "artificially forcing tension."
Here, by the way, an interesting conclusion follows: there is no "sovereignty," a myth. At least for most states. Virtually none of the former republics of the USSR was not capable of sovereignty. By the way, something similar is going on with the neighbors of China. No, there were disagreements before ... but it was in recent years that the Americans began to actively create the same "burning border". Conflicts with South Korea, Japan, Taiwan, the Philippines, Vietnam, Australia, India ... Solid conflicts.
And by the way, this also puts the "sovereignty" of these very states under a big question mark. It is necessary, by the way, to "evaluate the skill of the game" of our American friends, their ability to use others to solve their own geopolitical problems. In fact, for example, an anti-Russian ram is being actively formed from the same Eastern Europe. If in the case of "Russian aggression" the USA is going to use all its forces and means, then why?
And they are smart people and they want someone else to fight instead. As the events in South Ossetia and the Donbas have shown, it is not at all necessary to want war in order to get it on its borders. That is, the "lose" the United States in Ukraine and could not, they did not lose. They needed a "burning border" of Russia - they got it. Well, yes, at the price of the destruction of the Ukrainian economy, I know, but for them it is absolutely not important.
That is, Russia can have arbitrarily developed strategic nuclear forces, in the conditions of permanently growing mess in Ukraine, Transcaucasia and Central Asia, this does little to help. Modern Central Asia, for example, is just the perfect place to create a "pseudochaliphat" clone. And work on this is underway. At the same time, none of the countries of Central Asia + Kazakhstan supported the Russian efforts in Syria. And even politically.
But when it "flashes" ... then they will cry out loud. In this region there is a very difficult social, political, and economic situation. Inter-ethnic / inter-clan tension also has a place to be. Americans do not care, "who is against whom," the main thing for them is the ability to set fire, and it is there. And still what!
As for the Transcaucasus, everything is obvious: they need the Armenia-Azerbaijan confrontation as a trigger for a big conflict. In this case, "who will win" - the twentieth case. The main thing - the war, refugees and instability. The picture generally appears standard from Tajikistan to Estonia ... It seems that the Baltic states are a member of the EU and NATO, "civilized Europe", only the behavior of the Baltic leaders and constant "teachings" are a clear marker that these "states" are actively preparing for slaughter.
If NATO plans for them to actively harness the method of responding with a nuclear strike on their occupation, then, again, all these jumps and grimaces are not needed. And they were prepared for this from the very beginning. Frankly, the cave-Russophobian policy of theirs is explained precisely by their intended purpose. Well, and how to deal with it? It is hard to say.
In general, the example of the "Baltic extinct" clearly demonstrates: it is useless to try to build "good relations" in such a case. All such attempts smashed to the frankly anti-Russian course of these republics. And even Finland, Finland (!), Which seems to be as far as possible from Kyrgyzstan / Georgia. Finland, with which the post-war USSR almost always had good relations. And which was neutral and independent, as well as a developed, prosperous country.
And even there, the desire to "cooperate with NATO" in order to ensure security was cut. It is clear that this is not a completely "Finnish" initiative. And it is clear that in case of joining NATO, Finland will completely lose control over its own security issues. Yeah, and "neutral" Sweden, which since the days of the USSR is actively being dragged into the same block. And American marines in Norway ... Another front is in the northwest.
It is clear that the attempt of modern Russia to "occupy Scandinavia through Finland" seems like a madness. Russia does not need this, but no one is going to ask her opinion, but the work is being done. But what is characteristic, the work is not to prepare joint actions, namely to provoke a conflict with Russia, in which the US will not actively participate, but will be present "in the background".
It is necessary to mention the participation of numerous Ukrainians still in the Chechen wars ... Why? What did they forget there? And in the conflict with Georgia, Ukraine was mixed up ... And there was work for the future. And so
today
we have a conflict in Ukraine, in which both the "volunteers" from Belarus actively participate, and even (indirectly) the Belarusian state. At the same time, the head of the Republic of Belarus almost openly sided with the junta ... In his country, there is a massive pro-Western and Russophobic propaganda ... Why would it? Strictly speaking, what are Belarusians being prepared for? And in whose interests? And on whose mill is the current leadership of the country pouring water?
That is, if you look at the map large, then
principled
the difference between Georgia and Estonia, Belarus and Finland is very difficult to notice. Burning cells / cells that can be set on fire. Well, how will your SNF help you? Unfortunately, on the borders we have tens of millions of fools who are ready to ride for free under the American / EU flags. Rather, we do not have them, others have them.
And even their complete and final death of Americans will not upset very much, and we will create certain problems. And without any "exchange of nuclear strikes." The absolute weapon of the third world is tens of millions of fools who are ready to die for free for "holy America" (all for "visa-free" and for "Javelin", and for "51 state").
The trouble is precisely in this: Russia seems to be "losing its nuclear status," that is, if economic sanctions against the USSR were introduced rather from the point of view of ensuring the "technological backwardness" of it, then today the war is being waged for destruction, and this is openly declared. That is, for example, from the point of view of the beginning of Armageddon it is absolutely indifferent what kind of missiles (cruise, ballistic missiles) and which particular bases would have hit the United States in the Russian Federation. It is so? Then why, both in the United States and in Europe, no one is considering the option of a retaliatory nuclear strike in response to "financial javelins"?
Explain to me, dull, what is there
principled
difference? The economy can be destroyed by strikes of rockets at factories and power plants, using conventional warheads, using nuclear warheads (but Chubais is best to use), and you can use sanctions to achieve a similar effect ... and what is the difference? And why in the latter case it is impossible to answer with rockets? Humanism? What other humanism?
That is, forcing to impose sanctions against Russia, the United States (which themselves trade very little with Moscow) very much exposes Europe. The USA themselves while
are not going to fight
otherwise the whole point of the combination is lost. Here we have some naive citizens are assessing the option of "returning to the pre-sanctional state", and if everything is just the opposite? That is, the Americans in this case act according to the principle: the worse, the better - push and push (Europe with Russia) everywhere, perhaps somewhere and blaze out.
But even if tomorrow Russian tanks enter Warsaw, there will be no global nuclear conflict. Even so? Even so. You just have to stop considering Americans as pathetic idiots. They could have delivered a global blow to Russia without casus belli. But not intending to die in radioactive debris, they very intelligently push the eastern and central "Europeans" to the front edge. At one time, the Mongols persecuted the civilian population in front of them when storming cities, reducing their losses ...
So, at one time, Britain, without fighting directly with Russia, used Turkey for these purposes. And in Europe, the Central honorary title "British soldiers on the continent" wore the Prussians. You can actually fight with someone else's hands. The main thing - to find "useful idiots." Our misfortune is precisely that Eastern Europe is settled almost exclusively by them ... But in general, by imposing sanctions, the States are teaching Europe to think that any hostile actions against a nuclear superpower are, in principle, normal.
For the past few years, normal diplomacy along the Moscow-Brussels line has been virtually absent, but it absolutely does not bother anyone in Europe. That is, there is absolutely no fear of a "nuclear retaliatory strike" there and they build a policy on the basis of this. Our ostentatious "peacefulness" does not play any role here, the fact that we "do not want war," does not make any impression on anyone. Here, the stupid nonsense of European and especially German leaders plays a serious role: they planned to use Americans to eliminate such a competitor as Russia, but the Americans from the very beginning had slightly different plans ... At least their competitors - Europe and Russia harm each other in the economy as a maximum - war in Europe (limited). And they, like, for Europe ... Well, approximately, as with Poland in 1939. There, too, the Anglo-Saxons are firmly "harnessed" for Warsaw ... they are also "harnessed" for Paris. And for Prague, and for Athens ...
Even today, the "useful Poles" are actively pushed to the "frontline", forcing them simply to go crazy on the east ... but, oddly enough, Poland's offer to host the US base for 2 billion didn't cause a delight in the US base ... The task of American foreign policy is to create a universal powerful movement "to the east", and at the decisive moment elegantly jump off this tram. The problem will be that at this moment there will be no other choice for Europe, and Russia will be forced to put out its main trade partner with missiles.