The first integrated simulator for training and training the crew of the Ka-27M helicopter on a dynamic platform was created at the Center for Scientific and Technical Services "Dynamics". The simulator is part of the training complex, combining a whole line of training tools of various difficulty levels for the preparation of flight and engineering personnel of the marine
aviation
.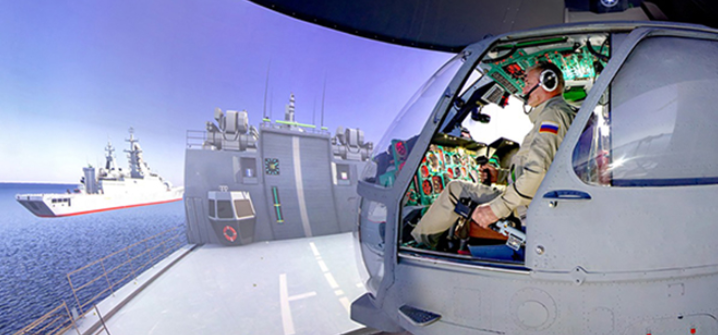 The simulator allows flight crews to be trained in piloting, navigation and combat use of the Ka-27M helicopter in various weather conditions, day or night, as well as in special flight situations, such as piloting in case of engine failure, flight in turbulent conditions, control system failures, which makes its important means of training pilots and increases the safety of use and efficiency of the helicopter. The mobility system allows the crew to get almost the full range of sensations, like during real flight.
The simulator is equipped with a spherical screen that provides a realistic display of the terrain outside the cabin, as well as terrain, ground, air and sea moving and static objects. The rendering scene has a size of at least 250 x 250 km.
The instructor's workplace is a unified module that allows you to conduct video monitoring of student activities, set up a scenario for the lesson, change the conditions of the current exercise, document the results and analyze the exercises.