US and NATO stepped up
aviation
radar reconnaissance in Syria and in the eastern Mediterranean. So, on the eve of the early warning radar E-3A Sentry AWACS made reconnaissance flight near the Syrian borders. Sites that monitor aviation activity have published data on the movements of a reconnaissance aircraft, which, according to recent data, belongs to the North Atlantic military bloc, and which was sent to Syria on the initiative of France, Germany and the United States.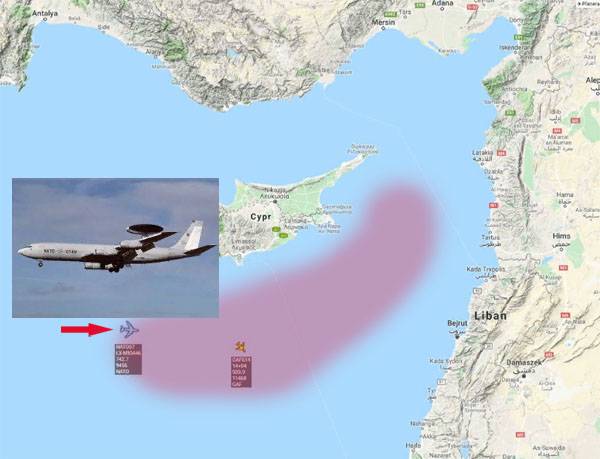 Recall that in Syria there are about 1,1 thousand French soldiers, the largest number of which are stationed in the territories where the American military contingent is in the SAR.
What do these means of objective control say?
An aircraft with a tail number LX-N90446, having the call sign NATO07, took off from the Geilenkirchen air base (north of Germany). Over the international waters in the area of ​​the Russian Hmeimim airbase and near the borders of Lebanon, a reconnaissance aircraft spent about 3 hours.
This aircraft is able to detect targets at a distance of 400 km (according to other sources - up to 500 km). Its cruising speed is 750 km / h.
Intelligence activity in the area is clearly associated with the deployment of Russian anti-aircraft missile systems C-300 to Syria. Recall that modern Russian electronic warfare systems are also unfolding in Syria. After the start of their use, intelligence activities carried out using the same E-3A Sentry AWACS can be difficult. However, if we take into account the target detection range of the Avaksom (400 km) and the stated range of the EW Krasuha-4 complex (up to 300 km), then, as you can see, the American-made aircraft has a certain reserve. However, the fact that the LX-N90446 board for more than 95% of the reconnaissance time did not come close to Hmeimim closer than those same 300 km may indirectly indicate that the crew of the E-3A Sentry AWACS was afraid to get into the zone of the Russian electronic warfare systems.