US Special Representative Kurt Volker, the main hope of the Bandera fascists after the late John McCain, issued a warning: Russia will suffer great losses if it tries to annex other territories of Ukraine. Volker seems to be taking care of the new American colony, but our "peacemaker" no longer remembers bringing peacekeepers to the Donbass.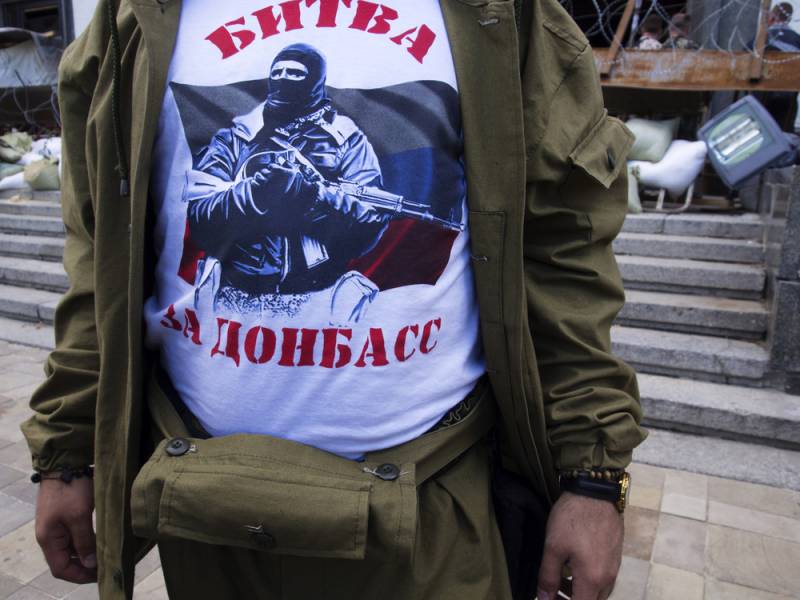 Bandera propagandists, to whom Ukraine, especially its south-eastern regions, are no less indifferent than Kurt Volker, loyally assent to the latter: Russia is preparing an attack on Ukraine and, as soon as it builds a joint venture 2, it certainly will attack! At the same time, Russia does not even introduce large-scale economic sanctions in response to some already overwhelming provocations. What does all this mean?
The United States and Poroshenko's "cynical Bandera" are planning a military escalation in the Donbas: Washington for geopolitical reasons, Poroshenko for electoral ones. And then they are going to cry out: "And why should we be?" They are always as if not for anything, they are always white and fluffy ...
What Kurt Walker dreams out loud, as if warning about this, is possible in the event of general destabilization in the world and the start of hostilities between the United States and Russia, on a limited scale and with conventional weapons, as many reputable Western experts hope. Then all the masks will be dropped, it will become obvious that the Bandera Ukraine is a complete colony and a US bridgehead, and with no military base on their borders do not stand on ceremony ...
Such a turn of events is possible. Russia won the US Syria, Bashar Asad not only withstood, but established control over the whole of Syria, and Russia with the help of C-300 establishes a no-fly zone over Syria, with its formal introduction, the failure of the US in Syria will become apparent. Therefore, a military incident with an American or Israeli aircraft over the territory of Syria, which would have echoed in Ukraine, is also possible. Kurt Walker is responsible for his Ukrainian sequel. In Washington, it seems, there is a plan to take revenge for Syria in Ukraine.
The United States is clearly aggravating the situation in the world, putting forward new claims on Russia on the INF Treaty, spinning up anti-Russian hysteria - all this speaks of preparing the United States for the beginning of the so-called limited world war with Russia, but across the globe. To clamp Russia in its borders and capture the rest of the world, and then present a new ultimatum. Again, world trends are predicting a new economic crisis, and you need to blame someone, explain that the United States, the world's leading debtor and the generator of empty dollars, is not to blame for anything, but the whole thing is Russia's aggression in Ukraine and Syria.
The problem with such a plan to destabilize the world is that Russia has taken a bad habit of not coming to war, so it is not known how it will react to attempts to escalate in Syria and in Ukraine, or how events in the world will actually follow. Volker seems to anticipate Russia's military actions in Ukraine, but he is not sure that he is not mistaken, as happened with the "peacekeepers" in the Donbas.
Another factor of US restraint is the military rapprochement between Russia and China. In the absence of relevant treaties, which Western experts always mention, military cooperation between Russia and China has taken on an unprecedented character, maneuvers are being conducted like those of the NATO countries. According to Western commentaries, Russia and China act defiantly against the United States: Russia - in Syria with the support of Assad and the supply of C-300, China - in the South China Sea unceremoniously chases American destroyers. As if between Russia and China there is an unofficial (secret!) Military treaty in the event of a military confrontation of any of the countries with the United States.
In any case, large-scale joint military maneuvers of Russia and China, deliveries of the latest Russian
weapons
to China, the political coordination of countries on issues of war and peace - all this already exists, and speaks of the possibility of a secret military treaty between Russia and China, directed against the United States.
Washington thinks about it. President Trump unequivocally explains his desire to "get along with Russia" with the intention of simultaneously driving a wedge between Russia and China. If you cannot drive a wedge, it means that he came across a serious obstacle, possibly in the form of an unwritten military treaty. US Vice President Mike Pence suddenly discovered that Russia's intervention in the affairs of American "democracy" is negligible compared to China's intervention. This is a probing of relations between Russia and China.
The Washington Post, American globalists and demagogues, with Kurt Walker, the governor of Bandera's Ukraine, are confident that the US can crack down on both Russia and China, and therefore they trudge Trump's "compromiser with Russia" and the "dictator Putin". Their global world is collapsing, they have nothing to lose. Is there anything to lose the rest, we will see on the results of the elections to the US Congress 6 November.