Krylov State Research Center proposed a project of a light aircraft carrier with a submarine in the form of a semi-tatamaran, transmits
TASS
.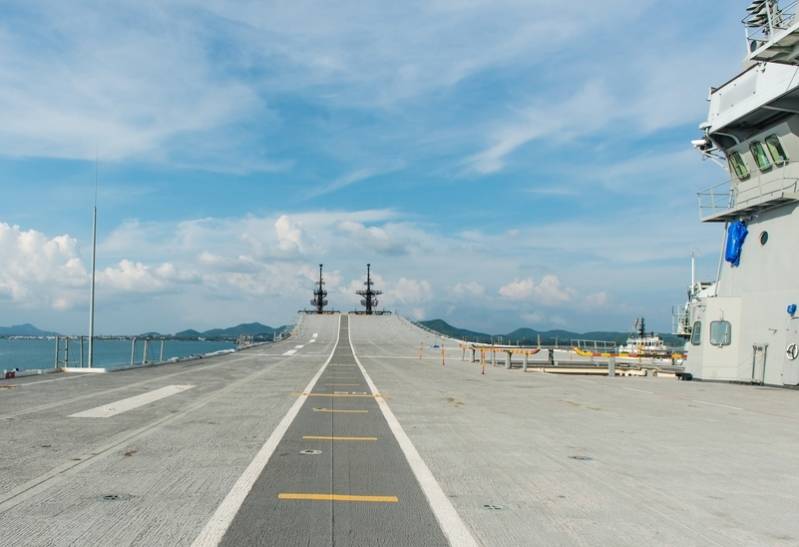 According to the representative of the center, such a scheme has not yet been proposed for aircraft carriers. The ship model was first presented at the Army-2028 forum.
According to the agency interlocutor, the main feature of this project (I haven't received the name yet) is the design of the underwater part of the hull, in which the "semi-tamaramara form" is realized.
Polukatamarannaya because two separate hulls (in the stern) to the bow converge into one. This scheme with a smaller displacement allows you to build a wide flight deck, like the ships of the heavier class. As a result, a full-fledged deck wing will be placed on the aircraft carrier, the company representative said.
He specified that the estimated displacement (full) of the ship is 44 thousand tons, the hull length is 304 meters, the width is 78 meters, the estimated draft is 8,5 meters. The speed is up to 28 knots, the range is 8 thousand miles.
The wing can count up to 46 aircraft, including 25-28 Su-33 MiG-29K aircraft, four control aircraft and more than ten Ka-27 family helicopters.
For comparison, the "Admiral Kuznetsov" with a displacement of 59 thousand tons has
aviation
a group of up to 52 aircraft.