In the reports of the headquarters of the so-called Operation of the combined forces (EP) of Ukraine, they no longer hide the use of various weapons against the people's republics of Donbass. In the fabulous games about the implementation of the Minsk agreements, the Ukrainian command stopped playing, and therefore speaks openly about attacking the DPR, that there is a violation of all the obligations assumed.
As a result of strikes by Ukrainian security forces on the adjacent territory, four people were killed, four more were injured. At the headquarters of the Environment, they declare that they are all "militants". So called in Kiev representatives of the armed forces of the republics of Donbass.
In order to somehow justify their actions in the Donbas, at the headquarters of the Ukrainian operation it was announced that "there was a return fire".
From the material of the press service of EP:
Since the beginning of the current day, the enemy has fired three shots at the positions of the Combined Forces, including from heavy weapons. So, the strongholds of our troops near the settlements of the Crimean and Shirokino invaders fired from grenade launchers, heavy machine guns and small
weapons
, and on the defenders of the South carried out a fire raid using mortars 120-caliber.
The loss
among the personnel of the united forces
no
.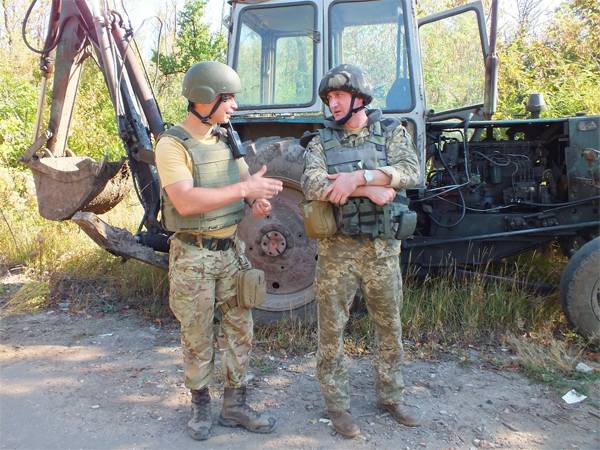 If there are no casualties, the question arises: was there any shelling from the side of the DPR, not to mention some kind of "fire raid with the use of mortars"? And one more question: what are the Ukrainian "knights" doing in the Shyrokyne area, if this area should belong to the demilitarized zone?
Meanwhile, the operational command of the DPR reports that 11 settlements of the republic, including Dolomitnoye, Zaytsevo, Vasilyevka, Shirokaya Balka, etc., came under fire from the Armed Forces of Ukraine.
Of
reports
:
In 10 hours of 50 minutes (September 23), 36 insurgents of the Marine Corps Brigade (APU), accustomed to impunity, fired at the residential areas of Sakhanka settlement with BMP-1 weapons. As a result of the shelling, two civilians were injured: a man born 1962. and a woman born 1972 There is no doubt that during this shelling the militants were pursuing only one goal - to inflict maximum damage to the civilian population of the republic.