In Syria, they report on the causes of the explosions at the Mezze airbase: "This is not Israel"
Syrian officials comment on the explosions that thundered in military depots near Damascus. Initially, the media reported that the explosions were associated with Israel's launching a rocket attack on the territory of the Mezze airfield. SANA news agency, citing sources in the military, reports that the information about the Israeli strike is not true.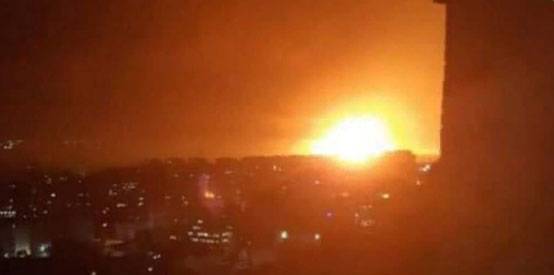 Stated that the cause of a series of explosions at the airfield "Mezze", which resulted in the destruction of ammunition depots, "was a short circuit in the wiring."
The Syrian media categorically disagree with this version of the Israeli media. They note that the cause of the explosions in warehouses in the SAR was a missile strike by a military
aviation
Of Israel.
Israel has repeatedly struck the territory of Syria, although the officials of these actions did not comment. At the same time, the Israeli media claimed that the reason for the attacks was the activity of Iranian or pro-Iranian forces. This is primarily about Hezbollah, which took part and continues active operations against the ISIL terrorist group (* banned in the Russian Federation).
At this moment in the Israeli Ministry of Defense strikes on the territory of Syria, if any, do not comment. And in the same Israeli media, it is noted that the Syrian air defense, which "proved to be powerless," entered into the matter.