In St. Petersburg, launched a border patrol project 10410
Yesterday, i.e. 8 June 2018 of the year in St. Petersburg on the PJSC "Shipbuilding Company" Almaz "was launched into the water border patrol ship PSKR-933" Kerch "project 10410 (code" Svetlyak "). This ship is the first 10410 serial watchdog under construction following a decision to resume this project.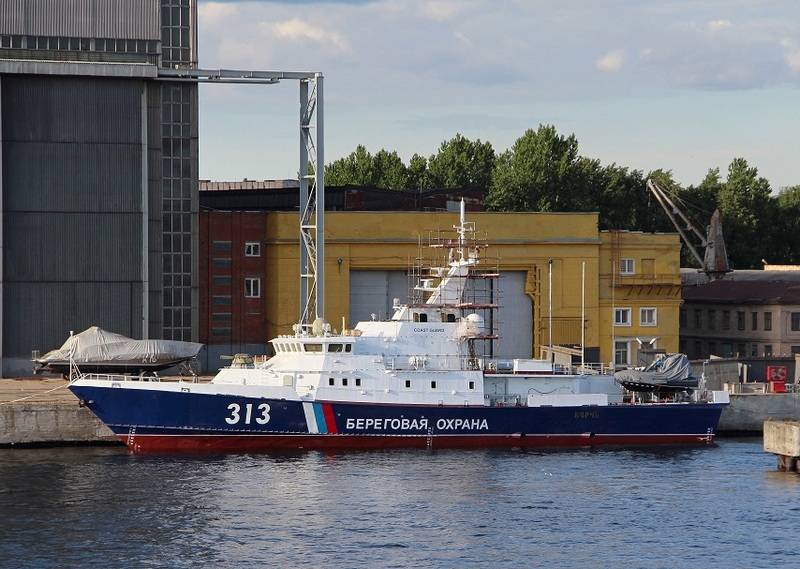 The contract for the construction of one ship of the 10410 project was concluded with the FSB of Russia in 2016. The laying of the border guard in the shipyards of the SF Almaz took place on May 24 of the year 2017.
It should be noted that this project of patrol ships 10410 and 10410B for the border service of Russia was built from 1988 to 2015 year. The total number of built ships of the 10410 and 10410 projects for Russia was 33 units, as well as seven ships of the 10412 export version for foreign customers (six for Vietnam and one for Slovenia).
The border patrol ships of the 10410 project are designed to protect the state border and the territorial sea, and combat piracy and terrorism. The ship project was developed by the Almaz Central Marine Design Bureau (St. Petersburg).
The 10410 ships of the project have two automatic artillery (AU) installations: the AK-176M-wide 76,2 mm caliber (ammunition - 152 projectile) and the aft - 630 mm six-barrel AK-30M (ammunition - 3000 projectiles). AU can be used for firing at air, surface and coastal targets. AUs have a control system for firing radar MP-123-02 (modes - automatic and backup). In addition, for the AK-176M, local manual control from the K221A and VD221 devices in an artillery installation is possible. There are two torpedo tubes OTA-40А-2 with one set of control system SU-406 on PCR. The armament included 16 sets of MANPADS of the "Igla" type. The operator's station for firing MANPADS is equipped with a pedestal and a backrest. There is also anti-sabotage weapons - the grenade launcher MRG-1 or DP-64, one set. In the 10410B and 10412 projects, based on the solution of the tasks of the patrol service in peacetime, the X-NUMX-mm AK-76М installation, intended mainly for combat with enemy boats, was abandoned. Instead, they installed a second six-barrel AU AK-176М caliber 306 mm with the shooting control system SP-30 "Rakurs". For the remote semi-automatic fire control, two sets of instruments "Column-521-219" are installed. Small
weapon
represented by two, installed onboard, 14,5-mm thumb machine-gun installations (MPTU) with 5000 ammunition ammunition each. For the placement of handguns of personnel and ammunition, a special pyramid room is provided.
Type: Border Patrol Ship
Displacement standard, t: 375
Dimensions, m: length: 49,5; width: xnumx; draft: 9,2
GEM: 3 diesel M-520B power 3 x 5400 l. with.
Speed, knots: 30
Sailing Range, miles: 2200 (on 13 nodes)
Crew, pers .: 28 (7 officers, 3 midshipman)
Autonomy, days: 10
Curious / forums.airbase.ru