Pompeo: Russia must withdraw its troops from the occupied territories
Head of the State Department Mike Pompeo met with Georgian Prime Minister Georgy Kvirikashvili. Apparently, no other main topic for negotiations could be found except for the topic of the Russian Federation. Pompeo actually made it clear that Russia's recognition of the independence of Abkhazia and South Ossetia prevented the United States from drawing Georgia into NATO. However, it did not prevent to start the creation of military bases on its territory.
Pompeo, to pretend to support the Georgian prime minister, said:
The United States strongly condemns the Russian occupation of an integral part of Georgia.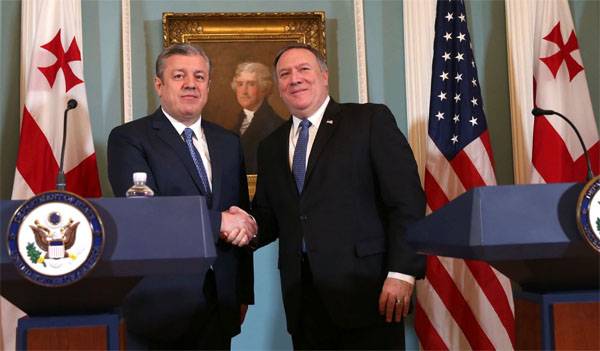 According to Pompeo, Russia "violates international law by carrying out a violent invasion of the territory of an independent state."
It is a pity that at that moment there was no one near the US Secretary of State who could ask Mr. Pompeo when he would be expected to condemn the American forcible rejection of Kosovo from Serbia or violating international law of the US invasion of Libya or Syria?
Pompeo said that the United States considers Abkhazia and South Ossetia "parts of Georgia."
Further, the US Secretary of State said that he was calling on Russia "to withdraw troops from South Ossetia and Abkhazia and to observe international law." From the mouth of a high-ranking official of the country for which violations of international law have become the norm, such appeals sound like an anecdote.
Georgian Prime Minister Kvirikashvili noted that Georgia is continuing "a movement on Euro-Atlantic integration" and is trying to "meet the basic standards of NATO."
Russia recognized South Ossetia and Abkhazia as independent in 2008, after the bloody adventure of Tbilisi, supported by Washington.
Recall that on the American television channel CNBC published material, which stated that Russia
"unsuccessfully" tested the Petrel cruise missiles
.
https://www.facebook.com/KvirikashviliOfficial