Some details of the Boeing-777 course, which was flying from Kuala Lumpur to Beijing in 2014, appeared. Recall that the aircraft disappeared from the radar screens on the night of 8 in March 2014, and the southeastern Indian Ocean is the intended crash site. At the same time, most of the wreckage of the airliner carrying the 239 people, including a Russian citizen, was not found yet.
On one of the Australian channels, it is reported that the commander of the crew, Zechariah Ahmad Shah, deliberately turned off all detection systems, leading the aircraft to the border area of ​​the dispatching area of ​​Thailand. The expert, who is a pilot and an aircraft engineer, on the program devoted to the mysterious disappearance of the Boeing, notes that the plane before this made a strange hook over the state of Penang (Malaysia), in which Ahmad Shah lived. The expert said that in this way the pilot said goodbye to the house.
Another aviation expert also made a statement:
This strange course may indicate that the pilot decided to commit suicide, at the same time taking away the lives of everyone else, who was then on board.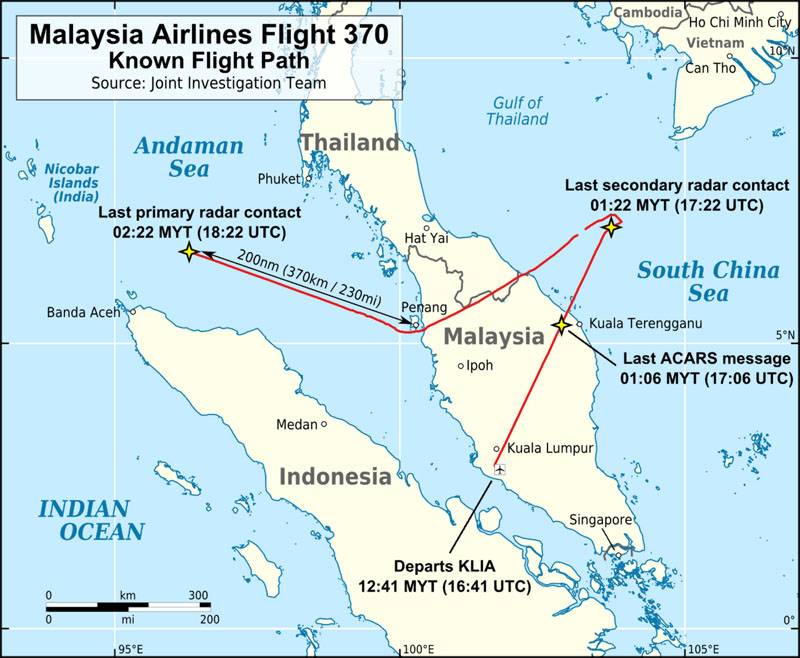 For reference: Zakharia Ahmad Shah - 53-year-old FAC with experience in
aviation
about 33 years old. An experienced pilot who was the commander of an aircraft of this type for about 20 years. The flight on the Boeing 777 - more than 8,6 thousand hours.
The strangeness lies in the fact that the satellite control devices were able to establish that, after the radar disappeared from the radar screens, the aircraft continued to be airborne for several hours. If the PIC chose a suicide or terrorist attack, then why did he decide to fly the plane with an intricate route for hours after turning off all communication systems and automatically detecting the side. Not only did the co-pilot make these hours during these hours - 27-year-old Farik Abdul Hamid (his attack on this type of aircraft was only 39 hours)?