American channel
CNBC
came out with a report on hypersonic
weapons
U.S.A. The material of the TV channel states that the American developers are not behind the Russian and Chinese in terms of creating this type of weapons. The report itself on the American television channel was clearly inspired by the latest information activity in the Russian Federation regarding the interruption of the Dagger hypersonic missile systems on the MiG-31 aircraft carriers on pilot combat duty.
From the material:
The United States does not lag behind Russia and China in terms of creating a "hypersound", since the current strategy of the United States is related to the development of non-nuclear missile technologies.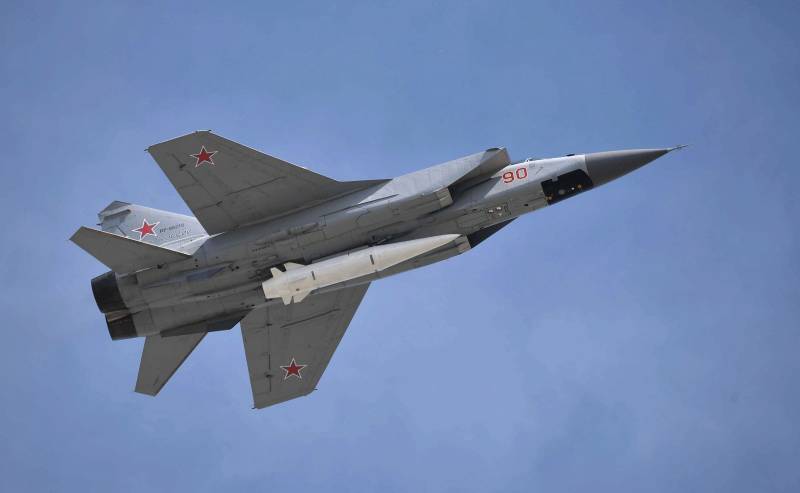 Russian "Dagger"
The report says that more recently, the United States recognized the significant advantage of "Russians and Chinese in creating hypersonic weapons," but now "there is practically no such advantage."
This statement contradicts recent publications in other American media, where, with reference to representatives of the US military, it was said that the United States now put in the first place not the development of hypersonic weapons, but the creation of weapons that are somehow related to the development of artificial intelligence. One example is artificial intelligence analyzing the huge amounts of information received by the Pentagon from reconnaissance drone cameras. Today, in the US military, they note that it is not possible to analyze this information for all 100% "in manual mode", and therefore many of the details of the footage remain unexplored.
CNBC publishes a statement by one of the American military experts, who claims that the US is currently engaged in "solving a more difficult task than Russia and China," namely, increasing the range and accuracy of hypersonic weapons. Stated that tested ammunition, which flew about 4 thousand. Km. He was compared with the Chinese "analog", which "did not fly and 2-x thousand. Km." About the speed of this rocket is not reported.
Previously, Lockheed Martin received nearly $ 1 billion from the US budget to create a prototype hypersonic cruise missile by the year 2023.