Officially presented data about the victims in Syria, the pilots of the Ka-52. In the east of the Syrian Arab Republic during the helicopter crash two officers died. They are Lieutenant Roman Eduardovich Miroshnichenko (navigator-operator of a helicopter squadron) and Lieutenant Colonel Artyom Anatolyevich Gushchin (deputy commander of a helicopter squadron). The helicopter fell at night in the desert. At the same time, the military department announced that the Ka-52 was patrolling the area.
Lieutenant Roman Miroshnichenko was 24 of the year, Lieutenant Colonel Artyom Guschin was 39 years old.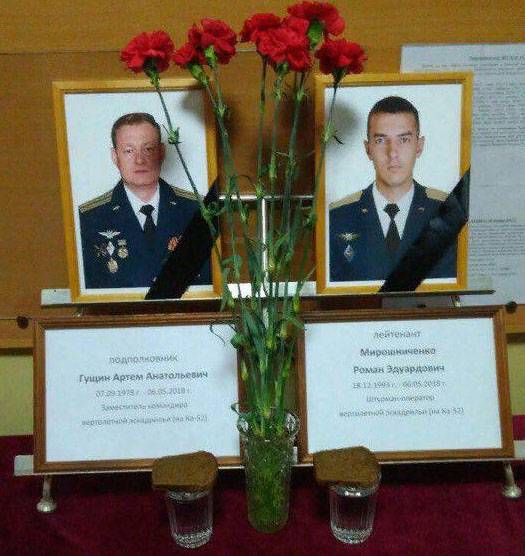 Roman Miroshnichenko graduated from military college in 2017 year. Artem Guschin - in 2000 year.
According to some reports, the Ka-52 helicopter, which crashed in Syria on May 6, was based on one of the airfields of the Far East. It was the first Ka-52, lost in ATS.
Recall that the official version of the Ministry of Defense connects the crash of a rotary-wing machine with a technical malfunction. A number of media outlets stated that the helicopter could have been attacked using a portable anti-aircraft missile system.
It should also be recalled that a few days ago, the Su-30CM plane, which was part of the Russian Aerospace Aviation Group's aviation group in the Syrian Arab Republic, fell into the Mediterranean Sea. The crew also died. The name of one of the dead pilots became known: the commander of the squadron, Major Albert Davidyan from the Belgorod Region. He left a wife and two minor children. According to some reports, Albert Davidyan studied at Borisoglebsky Flight School, which today has been turned into a training airbase.
The official version of the fall of the Su-30CM - hit a bird in one of the engines. Some experts put this version in doubt, others believe that a large bird that got into the engine on takeoff of a fighter could well have provoked its further fall in the event of a malfunction in another aircraft engine.
History
aviation
He knows many cases when a bird became the cause of the crash of a military aircraft, including aircraft that have "more than one engine." At the moment, there is an operation to raise the debris of a fighter from the bottom of the sea off the coast of Latakia province.