Even in the recent past, boys in Russia have been trained since birth to ensure that they are future warriors, defenders of their families, communities and lands of their entire people. They absorbed the fighting qualities, almost from the cradle. So they laid the core, which determined their character and their whole future fate. From early childhood, boys were taught to
arms
. Although their children's swords were made of solid wood, their weight and shape almost matched iron ones. There were also wooden spears, knives, bows with arrows, shields. Chronicles describe cases when teenagers were skillfully used to protect them from enemies. The knife was with a man almost from early childhood. Many of the children, especially of the nobility, in their adolescence received their first military weapons: swords, knives, hatchets. At the age of three, the boy receives the time of the next initiation - "landing a horse". It was a beautiful custom, a celebration for the whole community.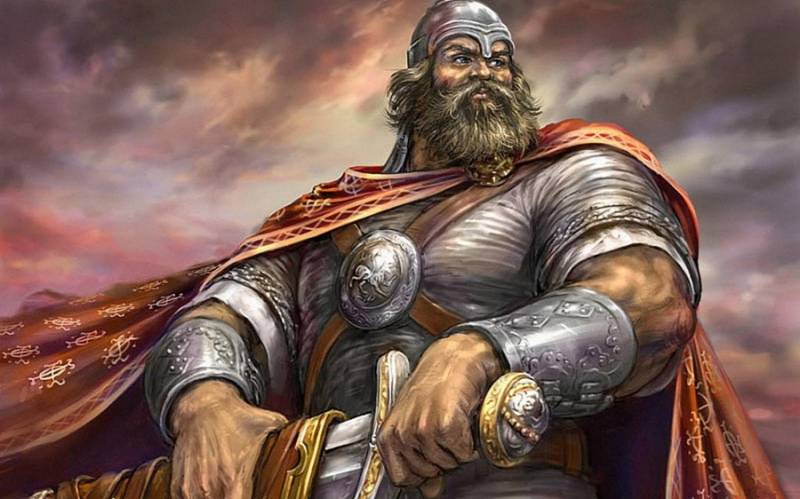 And in various children's games such skills as quick reaction, dexterity, balancing with one's body, the ability to evade an abandoned object and even intercept a spear or an arrow on the fly developed. Fistfight or wall-to-wall fights were a common manifestation of daring valiant in Russia until the 20 century. Such upbringing is still preserved among the Caucasian peoples. Boys are engaged in wrestling, various martial arts, dzhigitovka. They are brought up in honoring their elders and observing the national traditions of their people. Boys to 3-5 years do not depart from a loving mother, and after they must raise a father in severity.
It is a pity that these traditions are almost forgotten today in modern Russia. Numerous wars, revolutions and subsequent events have caused irreparable damage to the best gene pool of our country. How many famous and even more unknown brave heroes and patriots of their country sacrificed themselves for the victory over the enemy. But these were the best people, the flower of the nation, warriors. They could raise and raise excellent offspring, but instead they burned in
tanks
, went to the ram, closed the embrasure of the pillbox, blew up enemy equipment with them.
These losses are still reflected in the demographic gaps of the unborn generation, the decline of morality and the loss of education, which made men boys. In modern Russia, men are more often brought up by women - at home, in kindergarten, in schools and universities. In the field of education, women work almost everywhere, there are a large number of single-parent families, and in full families the man-father is often present only formally. And for the boy, ideally, it should be the father and closest associates: grandfather, brother, teacher, coach. However, the reality is that a boy at preschool age, when the foundations of his behavior are laid, is not surrounded by men at all. As a result of a lack of masculinity, men ceased to be warriors. Generations of infantile, weak-tempered males, unable to protect a girl or even themselves, have grown up.
Already repeatedly in
news
stories about fires showed us how modern "men" act. They leave their children or the whole family in fire and smoke, to escape alone. And then they will have to live with this, to look their friends and relatives in the eyes. But it's good that there are still real men who are not afraid to enter a burning house and save people from the fire, sometimes even at the cost of their lives. So, recently, during an attack on school students in Buryatia, 17-year-old Davyd Mamonov carried out a bleeding girl, and then blocked the path of a distraught ninth-grader. Not every adult dares to do this, but he could. This has already happened when, in a critical situation or in a war, some of the men wake up the ancestral memory of a warrior, and then they have no equal in battle.
Sweetheart
Mother told me that when she was at a late term of pregnancy, she always dreamed of a fish, a red swordtail. It was a dream that he jumps out of the aquarium, and mother picks it up from the floor with her hands and plants it back. This is how the "swordtail" was born a little earlier than the deadline set by nature.

How to handle the checker, he did not know. After the death in the military hospital of his elderly father, his mother found her father's souvenir saber in the back of the closet. And now for the first time he holds in his hands a piece of soft metal with a beautifully minted handle, in black wooden sheath covered with leather. My father was in the Cossack society of the district kuren and secretly from his mother, on a pension stash, he was able to buy himself a piece of parade. In addition to the souvenir pieces, his father had a ceremonial "Circassian" with gas-plugs, chrome boots, a hat and a real dagger with the inscription KKV (Kuban Cossack army). Having inherited such an arsenal of cold weapons, he decided that it would be nice to be able to handle him. He was no longer so young to start learning, but not so old as to lose interest in something new. After reviewing a lot of videos on the Internet on the theme "Flashing the sword", he chose the videos of Olga Korogodskaya. She lucidly and in great detail explained the technique of felling and interceptions, complex rotations and movements with a sword. For the beginning of independent training, this was enough.

During the lunch break, he succeeded in flanking on the territory of the destroyed buildings in the industrial zone of the enterprise and on weekends in the morning on the deserted bank of the river. He was not afraid of problems with the police, because he had a certificate for the souvenir drafts, and in his pocket was a hunter certificate with the right to wear cold weapons. Regular training was not in vain, and after six months he acquired not only abrasions and corns, but also a good skill with the sword. I wanted something more.

Soon, on the Internet, a military officer's checker (sample 1881 of the year) was ordered from the master gunsmith Dmitry (Kitovras). Without combat sharpening and in some other parameters, it was not a melee weapon. The real piece was longer than the souvenir and harder, but soon hands got used to this weapon. The movements became regular and smooth. Even without a combat sharpening with a sword, it was easy to cut a half-liter plastic bottle filled with water or a thin branch. The main thing was the speed and direction of impact. With the right chop, the saber must make a characteristic whistle.

During training, when something was already beginning to turn out, he listened to his own feelings. The cossack combat piece polished to glitter was already a familiar weight in the hand, and there was still a feeling of the right moment that was hard to explain. The muscles of the forearms and shoulders pleasantly buzzed after a workout. Thoughts acquired the right move and some solemn high ground, displacing unnecessary fuss. I remembered the forgotten feeling from childhood, when, as boys, with wooden swords, they fought before the first blood with the older boys of their yard. Or maybe it was even earlier, in the dormant generic memory of his ancestors. Father would love that. He felt like a man, a sword, a warrior.
In fact, it is not so important what you are fond of. Let it be pinball, airsoft, boxing, wrestling, shooting, fencing or flanking a sword. These are all just tools for sharpening the male character. It is important that by removing the boxing gloves, putting the weapon after shooting or hiding a sword in the scabbard, you keep the same rod. Remember that a man is a warrior, a swordtail.
Protect your women, put in place insolent, be intolerant of the enemy.
Live according to your conscience and fear only your own cowardice.