Moscow is preparing to host the main parade of the year - the Victory Parade, timed to coincide with the 73rd anniversary of the defeat of Nazi troops. IN
the news
have already discussed new samples of military equipment that will pass (pass / will be transported) on Red Square. These are unmanned aerial vehicles, the latest in arctic colors, and much more.
However, there is a question that needs separate discussion. Moreover, the relevance of this issue is connected with the systematic statements of individual authorities that it is inappropriate and dangerous to engage in rewriting
stories
. If it is dangerous to engage in this kind of activity, then how to explain annual events, in which one of the most recognizable objects of Red Square is sheathed with sheets of plywood with patriotic slogans and paintings of the Great Victory. This, of course, about Lenin's mausoleum.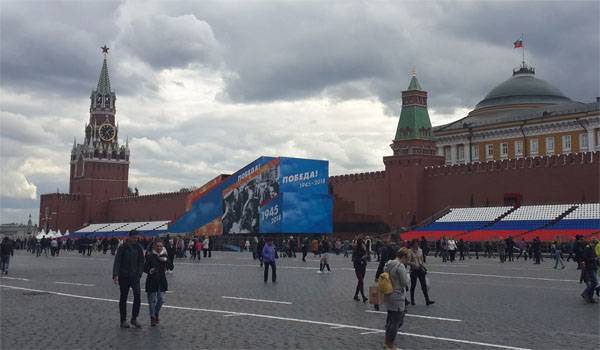 It is possible to relate to the figure of Lenin himself as you please, but it is at least strange to try to "cover up" the mausoleum for several days a year. It is possible to treat the most Bolshevik period in history in different ways, but the fact is that the politburo did not even roll at the peak of the so-called "stagnation" to plywood and boards, for example, the Pokrovsky Cathedral (Victory Basil the Blessed) or even the Kremlin towers - because they
like
had a direct relationship to the "history of Tsarism" in the country.
The mausoleum is a grave, many say. But the grave is the Kremlin wall. Does she also need to be blocked?
Or is the closure of the "outside observers" of the mausoleum on Red Square - an expedient solution that aims to "not disturb" the people with politically incorrect types? If so, then why isn't the USSR coat of arms closed on the building of the State Duma?
On this occasion, we offer our readers to express their opinion on whether it is necessary to close Lenin's mausoleum from the eyes of the people by May 9 or not.