A video appeared on the Internet using artillery positions from the Syrian National Defense Forces (NDF) in the province of Hama. Along with more modern
weapons
fighters apply the ML-20 since World War II, reports
Rossiyskaya Gazeta
.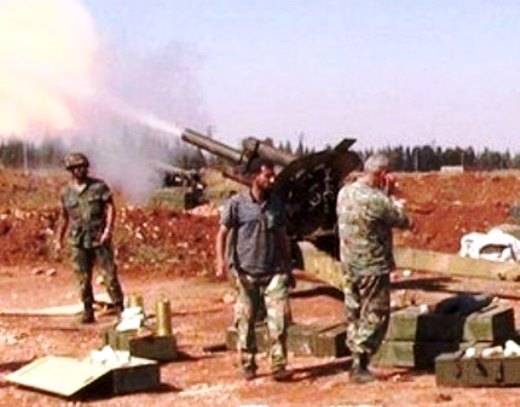 "These weapons were used by the Syrian army during the 1967 and 1973 fighting. Over time, they were replaced by more modern ones. However, during the civil war, because of the existing problems with making up for the losses, the howitzers-cannons again fell into the troops, where they are still fighting successfully, "the material says.
For a number of characteristics of the ML-20, it is difficult to compete with modern samples - "for example, its transport speed on the highway is only 40 km / h. The modern 152-mm howitzer 2А65 "Msta-B" has twice as many, "the author notes.
In addition, the range of the ML-20 is 20 500 m, and the howitzer, adopted by the 1986 year, - 28 900 m.
The veteran's weight is 7270 kg, the rate of fire is 3-4 shot per minute, the calculation is 9 people (for the Msta howitzer, respectively, 7 and 8).
In Syria, 122-mm howitzer M-30 model 1938 of the year, as well as the famous guns - 57-mm ZiS-2 and 76-mm ZiS-3 are also used.