Su-35S and MiG-31BM fighters conducted training battles in the sky above Primorye, the Pacific spokesman said on Tuesday
fleet
Captain 2nd rank Nikolay Voskresensky. Only about 10 cars participated in the exercise.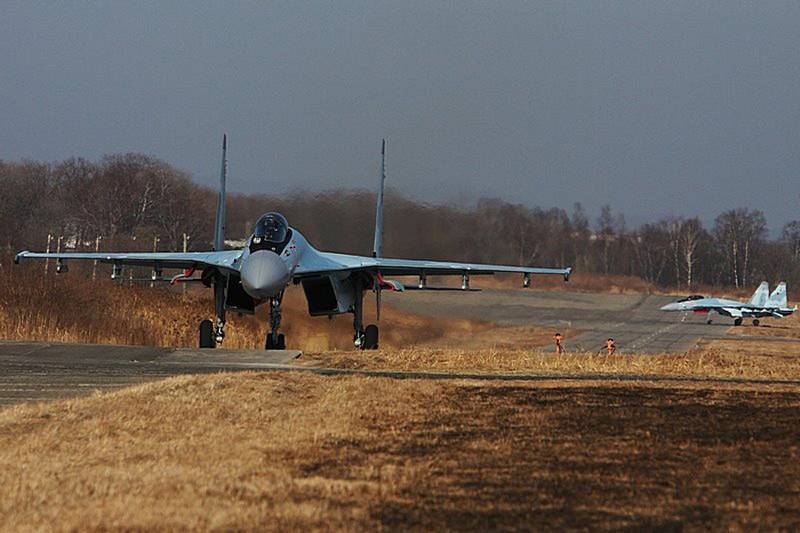 Crews of fighters in the skies of Primorye performed a set of various elements of combat training. Particular attention was paid to the technique of piloting with the use of offensive and defensive maneuvers at different heights and speeds. <...> Training flights took place over the water area of ​​the Peter the Great Bay and over the Amur Bay
- said Resurrection.
Crews of the Su-35S trained in turn to search, detect and destroy "enemy" aircraft, which were high-altitude fighter-interceptors MiG-31BM. During the flights, the pilots worked out the elements of maneuvering with large angles of heel and pitch, conducted air battles at the limiting parameters of the aiming complex and worked off the approach at night. In total, during the flight, the pilots made about 20 sorties.
Fighter
aviation
The regiment of the Air Force and Air Defense Army of the Eastern Military District, stationed in Primorye, in 2016 was equipped with Su-35S multipurpose fighter 4+ generation and modernized MiG-31BM fighter-interceptors. This year, the unit will celebrate the 100th anniversary of its founding.
- noted Resurrection.