Dozens of military without
weapons
today took part in the rally in Yerevan against the election of the former President Serzh Sargsyan as Prime Minister, reports
TASS
.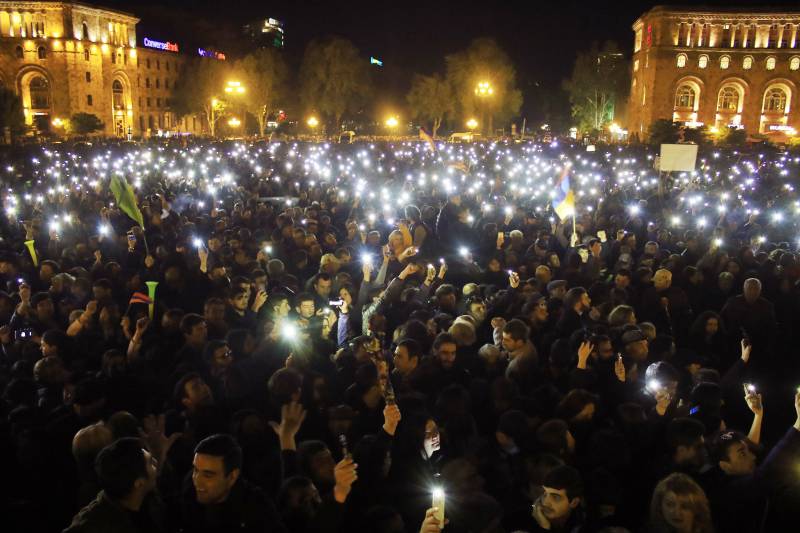 It is reported that the Armenian Ministry of Defense has already condemned a group of servicemen of the peacekeeping brigade who joined the demonstrators.
The actions of these servicemen are considered not only as a violation of the regime of staying in a military unit and refusal to perform their duties through the unauthorized abandonment of the unit, in connection with which an appropriate appeal was filed to the competent authorities, but as a gross violation of the principle of non-interference of the Armed Forces in political processes. This should also concern international organizations.
said in a statement by the department
The servicemen themselves refuse to comment on their presence at the rally, only explaining that they are "one with their people."
According to the director of the National Security Service of Armenia, Georgy Kutoyan, the current events are already turning into serious challenges against statehood.
Unfortunately, observation of recent events suggests that a consistent attempt is being made to upset the balance, which is already a direct encroachment not on individual statesmen or politicians, but on the basis of statehood,
said Kutoyan.
He said that "the information obtained as a result of the ongoing operational-search activities conducted by the National Security Service gives grounds to draw conclusions that, in parallel with the process of the realization of their constitutional rights by citizens, both internal and external forces (...) want to realize its vile programs aimed at the inviolability of sovereignty (Armenia), state borders and territorial integrity. "
As an Armenian, a son and a parent, I call for prudence and solidarity, but as the head of the National Security Council I warn you that not a single "fishing in muddy water", and without exception, will not go unpunished, any act of such people will receive a full assessment in full,
stated Kutoyan.