RF Armed Forces of the Russian Federation destroyed two warehouses and a command post of terrorists near Damascus. More than 1,1 thousands of militants and their family members were withdrawn from the Eastern Calamun reconciliation area in a day. Reports about it
FAN
with reference to Syrian sources.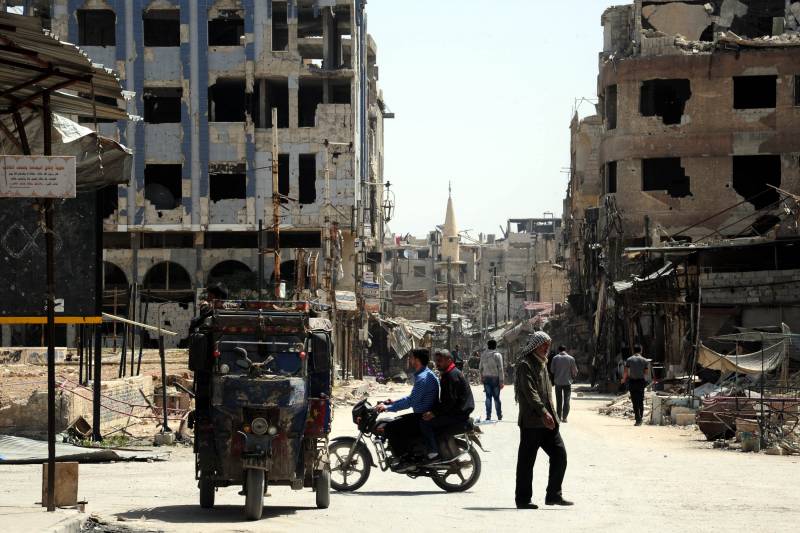 South of the Syrian capital, clashes were observed between the Syrian Arab Army (SAA) and IS terrorists (the group is prohibited in the Russian Federation). Russian
aviation
attacked the positions of terrorists, destroying two depots and the command post of terrorists. 1156 militants and members of their families were removed from East Kalamun in the province of Damascus in a day. Of these, 1117 were taken to Afrin, and another 39 to the Al-Rukaban refugee camp in Al-Tanf. In total, from April 20, 2,85 thousand militants and their families were withdrawn from East Kalamun.
Syria's defense minister, General Abdullah Ayub, and the commander of one of the most combat-ready CAA formations, Major General Suhel Hassan, visited the city of Dumeirah, Damascus, which was liberated from terrorists. The two commanders visited a strategic airport that was targeted by a coalition led by the United States during the attack on Syria on April 14.
In the northern part of the province of Homs continued clashes between the Syrian army and the armed opposition groups. Clashes were recorded in the vicinity of the settlements of Zafaran, Kafr Nan, Suleym, Zahabiya, Ar-Rastan and Deir Ful.
IG terrorists tried to attack the location of the CAA near Meyadin in the province of Deir-ez-Zor. In addition, clashes between government forces and Islamists were noted in the vicinity of Abu Kemal.
The Syrian Arab Army (CAA) with the support of the Russian Aerospace Forces conducted shelling of Dzhebhat al-Nusra terrorists' strongholds (banned in the Russian Federation) in the southern part of Idlib province. The blows were inflicted on the positions of the radicals in the Tal Ass.
In the province of Hama, the Syrian army, under the cover of Russian aviation, conducted artillery shelling of al-Nusra positions in the vicinity of settlements of Al-Latamin, Kafr Zeta, Wadi Jasiya, Buraygit and Nazaz.