A spokeswoman for the Russian Foreign Ministry, Maria Zakharova, speaking at a briefing, provided information on interesting findings after the liberation of Eastern Guta from the occupation of terrorists. According to Maria Zakharova, not only containers with chlorine, but also smoke bombs were found in warehouses and laboratories that were controlled by militants. It is noteworthy that containers with chlorine are of German origin, and smoke bombs, with the use of which the White Helmets were often created, are British.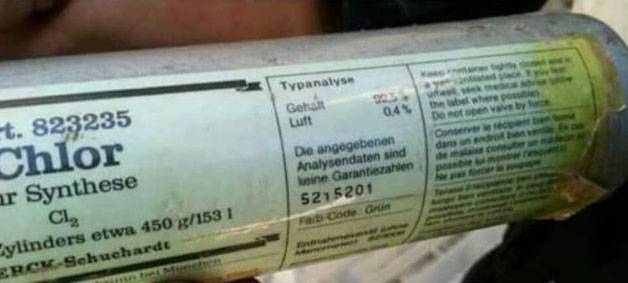 From the statement of Maria Zakharova:
In the liberated territories of Eastern Guta, Syrian government troops found containers with chlorine, the worst form of chemical
weapons
- from Germany, as well as smoke bombs by the production of the city - attention! - Salisbury.
This is the same settlement, near which is one of the world's largest chemical laboratory - Porton Down.
Official representative of the main foreign policy department of the Russian Federation:
It is even difficult to comment on this fact in some way, so frightening and undermining the faith in the humanity of individual states. Of course, we are not talking about whole states, but about those politicians and leaders who give such orders and take similar decisions.