Russian President Vladimir Putin commented on the missile attacks against Syria by the United States, Britain and France. According to Vladimir Putin, these blows were based on the dramatization of the use of toxic substances in Eastern Gute.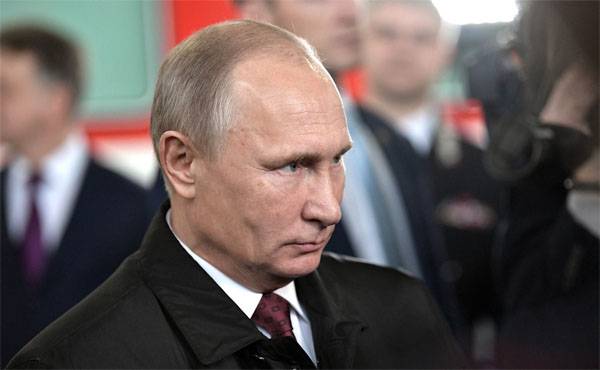 President of Russia:
Again, like a year ago, when the United States attacked the Shairat airbase in Syria, the pretext was used to stage the use of toxic substances against civilians - this time in the Duma, a suburb of Damascus. Russian military experts, having been on the site of the alleged incident, did not find traces of the use of chlorine or other toxic substances. No local resident confirmed the chemical attack.
According to the president, the rocket attacks on Syria are suffering the people of the country, provoke a new wave of refugees and ultimately indulge the terrorists.
Putin:
14 in April, the United States, with the support of its allies, launched a missile attack on the facilities of the armed forces and civilian infrastructure of the Syrian Arab Republic. Without the sanction of the United Nations Security Council, in violation of the UN Charter, the norms and principles of international law, an act of aggression was committed against a sovereign state, which is at the forefront of the fight against terrorism.
In the course of the briefing, the representative of the General Staff of the Armed Forces of the Russian Federation, General Sergey Rudsky, sounded specific information about the launched and intercepted missiles.
Rudskoy:
Duvali airfield - 4 missiles fired, all shot down. Dumeyr airfield: 12 missiles - all shot down. (Another military airfield) 18 missiles - all shot down. Shairat - 12 missiles, all shot down. Damage to the infrastructure of these facilities is not caused.
General Rudskoy continued:
Of the 9 missiles fired at the unused Mezze airfield, 5 was shot down. From 16 missiles at Homs airfield destroyed 13. 30 missiles (in Damascus areas) - 7 shot down. The objects on which the blow was struck are partially destroyed. The Ministry of Defense keeps the situation under control. Thanks for attention!