Attention is drawn to the publication in the Western media about the rocket attack on the Syrian territory with cruise missiles. As you know, the shelling was carried out after the relevant order of US President Donald Trump. Trump has already thanked two other members of the UN Security Council - France and Britain - for the fact that the authorities of these countries supported the anti-Syrian aggression.
It is worth noting that the Western press is clearly not experiencing euphoria about this. Thus, the largest French news agency France Press comes out with material in which, telling readers about the missile attack on Damascus, is a phrase that speaks about the intervention of the United States, France and Britain in the course of the civil war in Syria. At the same time, it was added that Trump intervened against the background of threats from Russia that a missile strike would lead to a new round of destabilization.
In the Syrian capital, explosions are heard, signaling a new chapter in a brutal seven-year civil war.
Thus, the AFP states that the French President has a hand in the new round of civil strife in the SAR.
At the same time, for the first time in a long time, the French media quoted the Syrian state media. From the material
AFP
:
The aggression is a gross violation of international law, a violation of the will of the international community, and it is doomed to failure, writes the Syrian news agency SANA.
Syrian News Agency quotes German edition
Frankfurter Allgemeine Zeitung
. It is emphasized that Chancellor Merkel from the participation in the attacks on Syria "prudently refused."
The Italian press notes that the United States, Britain and France "attacked the city, which today has about 2 million people." At the same time, there is no open criticism of blows - apparently, due to fears of at least reproaches from the "main partner" in the absence of solidarity.
Corriere della Sera
: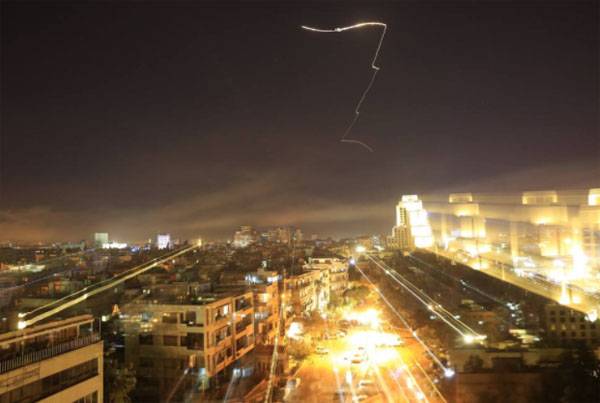 At the same time in the European press publications on the attacks of Syria are accompanied by phrases "
for the possible
Asad's use of chemical
weapons
in Eastern Gute. "In other words, the Euro-media report makes it clear that no official evidence of the application has been provided - given the fact that the OPCW's mission begins work only today.