Regular reconnaissance flights off the Black Sea coast of Russia were carried out by the US Air Force strategic unmanned aerial vehicle RQ-4B Global Hawk and the US Navy P-8A Poseidon anti-submarine patrol aircraft, follows from the monitoring data of the Western
aviation
resources.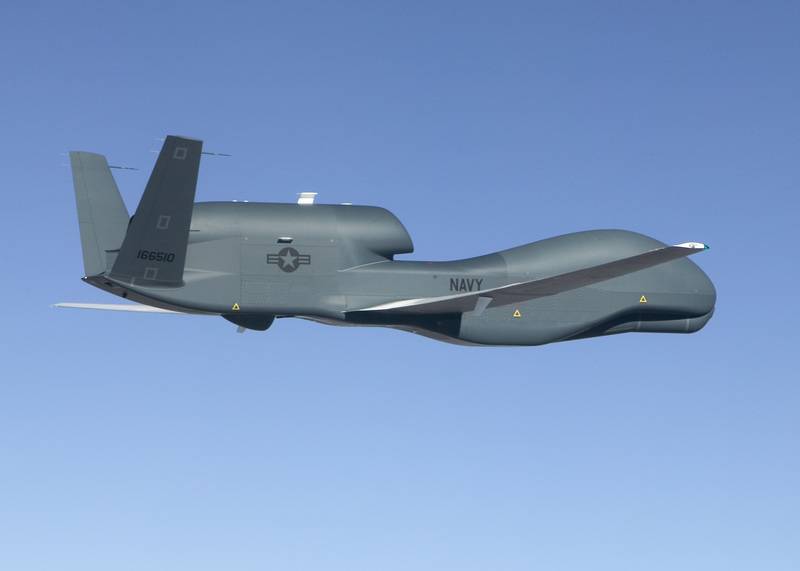 According to their information, the long-range UAV with a tail number 10-2043, which departed from Sigonella airbase on the Italian island of Sicily, starting around 13: 20 Moscow time, traveled for about eight hours from the westernmost tip of Crimea along its south-western and southern coast, as well as the coast of the Krasnodar Territory up to Sochi. The flight was carried out at an altitude of 16 thousand meters and a speed of about 650 km per hour. At times, the American drone approached the coast of the Crimea in the Sevastopol region and the Krasnodar Territory in the Tuapse region at a distance of about 40 km.
At the same time, the US Navy anti-submarine patrol aircraft P-8A Poseidon with a tail number 169003, also departing from Sicily, cruised for three hours near the sea borders of Crimea. He performed the task first along the southern coast of Crimea, and then circled for a long time over the international waters of the Black Sea to the west of the coast of Crimea near Sevastopol, occasionally approaching the Russian coast at a distance of about 35 km.
Before that, on Tuesday morning, the same US Air Force RQ-4B Global Hawk drone with the hull number 10-2043 flew for hours along the demarcation line in Donbass, during which it approached a distance of approximately from 40 to 60 km bordering Lugansk region of Ukraine areas of Belgorod, Voronezh and Rostov regions of Russia. At that moment, as in the course of previous flights, he was above the Novopskovsky district of the Luhansk region, Interfax reports.