Like any normal person, I occasionally reflect on where the limit of the current confrontation between Russia and the West is. The information war itself is far from harmless, but it has already turned into a war of sanctions, causing real economic damage to its participants. And then, after one or two turns, a real war is clearly looming before us - hot, bloody, cruel.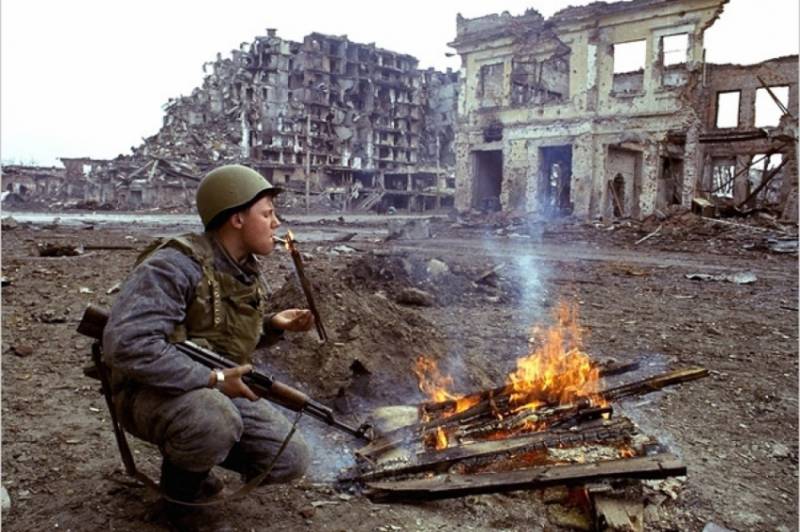 Maybe even more brutal than World War II.
Frankly, I do not really believe that it will reach a real, big war. However, with one caveat: in the current situation, any provocation can be the spark from which the entire globe detonates. And on provocation, our "partners" are great masters, and if not with their own hands, but with the help of their puppets, they will probably try to bite the Russian bear more than once.
But it's hard to believe in Washington's desire to test the readiness of Russia's strategic nuclear forces.
By the way, there are some indirect confirmations of this. For example, the military assistance of the USA to Ukraine for four years (!) Was limited to deliveries of infantry
weapons
, counter-battery radar and the notorious "Javelins", which, of course, is a useful thing in the economy, but does not fundamentally change the existing layouts. And this is despite the fact that the Ukrainian direction for the geopolitical aspirations of the United States is now absolutely priority, and the military and economic capabilities of this state are such that in four years the Pentagon could simply stuff Ukraine with weapons, instructors, PMC fighters, and even its own divisions.
Moreover, I am sure that if it happened somewhere far away from the Russian borders, it would be so in the end! But no: Ukraine received so much real military aid from the United States that even some Nicaraguan "contras" from the long-forgotten eighties are now looking at Ukrainian "peremozhniki" as the most complete losers. Something is keeping Americans from taking too rash steps. And no matter how much they strive for Kiev to quickly destroy Novorossia, the risk of a full-fledged military confrontation with Moscow keeps the Americans from too active assistance to the Poroshenko regime.
Similar is the situation in Syria. Strictly speaking, our contingent there is too small to oppose the American Middle Eastern and Mediterranean factions. And the logistics are not in our favor: happen in Syria to clash with the Americans and their NATO henchmen, we simply cannot help our grouping from the "big land", and it will be crushed.
But no, and here the "partners" are barking loudly, grinning their teeth, but they are afraid to use them.
It is no wonder: it is clear that Moscow is also at the limit of patience, and in such a situation one can easily expect from it a limited but extremely painful use of "special ammunition" for targets in Europe. After that, Americans will either have to climb into the loop of mutual annihilation (don't even think, they love to live well too!) Or explain to their European partners, who are so fond of demonstrating "transatlantic solidarity", why NATO membership does not guarantee security anymore, but quite the opposite. ..
In general, even with these examples, it is clear that the Americans do not want a real military conflict with Russia. Their bet is the fifth column, a coup in Russia and its subsequent collapse, with a parallel deprivation of its fragments of nuclear status.
If we accept this option as a baseline, it becomes clear that Washington and its satellites will continue to put pressure on us on the economic front. And here it is very interesting to what extent they are ready to reach, and how we can answer them. And in general, is there any leverage in Moscow's arsenal that is so painful that their use can stop Americans from wanting to get into the bottle to the very limit?
Well, let's try to analyze this aspect of the unfolding battle.
For starters, allow a small "lyrical digression." When the American ambassador to Moscow, John Huntsman, recently announced that he does not exclude the seizure of Russian assets invested in US debt, the response of our officials and semi-official persons was rather pitiful. Basically, it all came down to the fact that for the United States it is counterproductive, that it will undermine the credibility of American securities, that America will punish itself, and so on. That is, frankly speaking, it was more like a miserable bleating and mantra in the spirit of "No, they will not dare! And if they dare, then they will be exactly the end in a hundred years! "
I deliberately focused your attention on this moment, because it quite eloquently shows us the next frontier of possible confrontation, and also the fact that our "expert" community in principle does not really understand, but what should we do in such a situation. Whether real experts understand this, whose reports are on the table of GDP, I personally do not know, but given the fact that in the economy, everything is traditionally much worse than in politics, those experts also do not shine with intelligence and ingenuity.
So, suppose that the Americans nevertheless decided to "suicide in a hundred years" and froze our assets. What could be our response? The most important thing is: can we find such reciprocal steps that would be for the West no less, and perhaps even more unpleasant, than their own sanctioning arbitrariness?
I would venture to say that we have similar options. And there are even a few of them, which will be quite surprising for our passive-loving "experts."
The most painful option for the United States, in my opinion, is the denunciation by Moscow of any reciprocal agreements on mutual copyright protection.
Yes, dear readers, it has historically happened that Americans have never put our patents worth a damn. And we, to put it mildly, have formed some disparity in this matter.
Believe me, there is something to compensate for any of our losses. The market capitalization of Microsoft, for example, exceeded five hundred billion dollars. Some more companies, "Oracle", "Adobe", for example, are estimated at about one hundred billion dollars each. No, of course, I do not want to say that we will automatically bite off half of this fat cake. But it speaks about the value of assets quite eloquently.
If the Russian authorities have enough wit and will to bring the situation to a logical finale and allow our software companies to buy out the Federal Property Management Agency (or who is in charge of it now?) Rights to American software products and start legally, officially maintain and implement both internally and and on the world market, new old operating systems, antiviruses, graphics packages, design programs, game engines, etc., etc., we will be able not only to annoy the Americans very badly, but also in a fairly short time lnostyu "recapture" all the losses associated with the arrest of our assets.
But there, in addition to software, there is still a lot of juicy. Hollywood products alone can become a major Russian export item. And the music? Only one legacy of Michael Jackson was estimated at a billion!
But it is not only important that in the shortest possible time we will get a pair of operating systems and a mass of other useful software. And not even the fact that hundreds of thousands of Russians will be provided with work and salary. Although this, of course, is extremely important.
It is necessary to remember about the enormous damage that will be inflicted on the flagships of the American IT market, which in world markets will have to compete with their own product, which is sold at unacceptably low prices for them. And if this does not cause a collapse of quotations on the entire US stock market with a corresponding increase in US GDP, I'm even afraid to imagine what measures the American regulators will have to apply for this.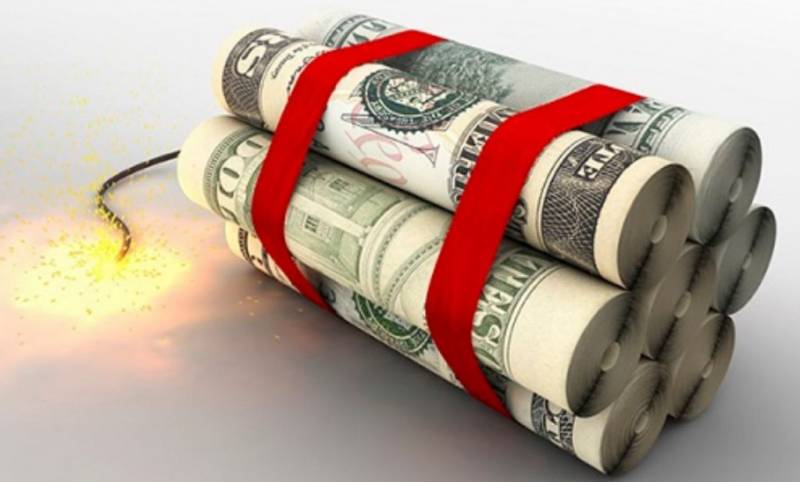 Probably, one more economic blow for the West could be the complete cessation of gas supply to Europe by Russia. And do not rush to throw in the author slippers, saying that Russia itself will not survive this.
Not only survive, but also financially win.
The total revenue of the Russian Federation from gas exports is a little more than forty billion dollars. This is a serious figure, but still not enough so that we immediately go to bed and die. At the same time, about a third of all gas consumed by Europe comes from our country. And the empty gas pipelines will be filled with nothing. Moreover, this deficit will be impossible to cover for at least several years. Which means ...
This means that the energy crisis that has broken out in the world will spur oil prices. And this is all the more true because it is with oil that they will try to plug some energy holes, and the demand for it will inevitably jump. This means that we have every chance not only to compensate for the gas exports that have fallen out, but also to earn some extra money.
If we add to this such a nice bonus, as the all-European economic crisis is very likely in such a situation, it will turn out to be absolutely wonderful ...
True, this is not the answer to the Americans. But there's nothing you can do - globalization. Shit he who can spoil, and gets one who can not defend themselves. Such are the "lords fighting, and at the lackeys the forelocks crack" in a new way.
Although for the Americans it will be extremely unpleasant. If only because any serious crisis in the EU will certainly endanger the very existence of this new Babylon. And after him, the foundation of NATO will surely crack.
Probably, we could designate a couple of more tricky and not very pleasant ones for those who have been bored (sorry, I can't find a more correct definition) of "partners." For example, stop supplying titanium to Boeing, but continue normal cooperation with Airbus. Rate the author's cunning, by the way.
Or go beyond the number of economic responses and recognize, finally, the DNR and the LC as sovereign, independent states. And to ensure their sovereignty, enter the no-fly zone to the Dnieper. Yes, in the best traditions of the "partners", with the bombing of everything that even remotely resembles a military object.
But I, probably, will give readers the right and the opportunity to practice themselves in cunning. No, really, your options can be quite popular in some secret bunker near the Kremlin.
And for those who cry out that this is horror, and we all die, this is the end and the ultimate international law-slaughter, I will answer simply: all this can be said about the arrest of our assets. So an eye for an eye, a dollar for a penny, and the further we disperse, the calmer we will sleep.