Quality journalism and prejudice towards one's own country are incompatible and mutually exclusive.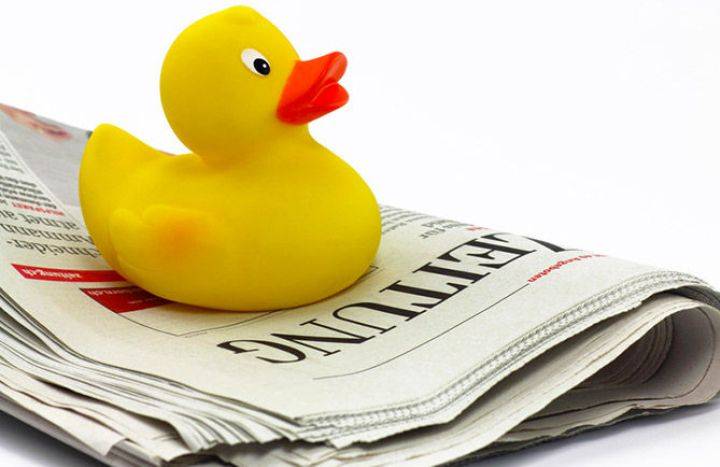 If the so-called world press, represented by major Western news agencies, newspapers and television channels, has long been trained to play the same propaganda dude, and therefore there is no need to even look for a hint of fundamental differences on key issues of world politics, then this is the case with the Russian press somewhat different.
Thanks to the longstanding and persistent promotion of state interests and public priorities by Vladimir Putin and his entourage, there is a certain part of the media, which, despite the dominance of the liberal paradigm imprinted in the mass journalistic consciousness, still does not go too far in demonstrating its separation from the Russian state. But there is another, no less noticeable, in any case, more vociferous part.
"Who is xy" in the world of the Russian top press can be fairly confidently judged by the style of presentation
news
materials. And for the convenience of carrying out such a test, it is best to take one sensational topic and see how it is reflected in the mirror of certain publications. And in this way, find out the degree of curvature of this mirror.
Just these days, the news came up, which allows us to quite clearly answer the question we are interested in. Almost all the leading Russian media did not pass by reports that Israeli F-35A fighters allegedly passed through Syrian airspace by undetected Russian air defense systems. From which itself a conclusion follows about the fatal technical backwardness of Russian radar systems and the unsurpassed combat qualities of the aforementioned American aircraft.
Before assessing the nature of the reaction of the press to this "sensation", it is necessary to clarify the source of its origin. Which, frankly, does not inspire any confidence. This is how this source characterizes, for example, an online publication.
"Sight"
:
"Aljarida was previously repeatedly accused of publishing information about certain operations of the Israeli army, which are not subsequently confirmed. The portal has already been suspected of cooperating with the Israeli authorities. "
It is obvious that other publications also had similar information regarding the degree of "authenticity" of this source. But, as you will soon see, this did not bother everyone.
The Ministry of Defense of the Russian Federation has already given its assessment of this informational stuffing, which, as one would expect, turned out to be unequivocally negative.
"Information published in a number of media with reference to a foreign source, that" Israeli fighters deceived Russian radars in Syria and conducted reconnaissance at high altitude "is complete nonsense," the department said. According to the source, any aircraft at high altitude becomes easily detectable and vulnerable to air defense systems of most countries. Since the time of the downed US-2 over the territory of the Soviet Union, no one has been trying at high altitude to violate foreign airspace. "
You do not need to be a great military expert to realize a simple thing: some wild-growing foreign publication cannot know anything about what only the calculations of the Russian air defense radars in Syria can know - they saw someone on their screens, or not.
And now, taking into account this circumstance, let us move on to the main issue on the agenda. More precisely, how some of the top Russian media's "sensation" reacted to this clearly suspicious (even before the Ministry of Defense refuted) "Let us give the titles of their publications on this topic, taken from the news search engine Yandex.ru. Which by themselves are quite eloquent and leave no doubt as to which of them still "filters the market" and is in no hurry to throw stones at the Russian garden, and who, strictly opposite, takes advantage of any, even the most dubious possibility. So let's get started:
RBC
PM21:38
Media learned about intelligence aviation Israel in Iran bypassing Russian radars

IslamNews
PM21:18
Israeli aircraft made reconnaissance flights over Iran

TVNZ
PM21:06
Two Israeli fighter jets conducted reconnaissance operations in Iranian airspace

Rambler
PM20:35
Russian radar did not notice Israeli fighters

Rossiyskaya Gazeta
PM20:29
Two Israeli fighters conducted reconnaissance in the skies of Iran

NTV
PM20:11
Media: Israeli F-35 appeared in the sky of Iran

REGNUM
PM19:55
Media: Israeli Air Force conducted a reconnaissance mission in Iran

BBC News
PM19:47
Israeli aviation conducted reconnaissance in Iran bypassing radar from the Russian Federation

REN TV
PM19:45
Two Israeli fighter jets conducted reconnaissance over Syria and Iran

Folk news
PM19:32
Israeli fighters conduct reconnaissance over Iran - media

Lenta.ru
PM18:34
Israeli fighters deceived Russian radars in Syria

IA "News"
PM18:20
Media: Russian air defense did not notice the passage of the Israeli Air Force over Iran

Ruposters.ru
PM18:17
Israeli aircraft fly over Russian radars unnoticed

Caucasus Herald
PM17:52
Israeli F-35 conducted a reconnaissance operation in Iran

Moscow Komsomol
PM17:47
Israeli aircraft flew over Iran, bypassing Russian radars in Syria

Vzglad.ru
PM17:38
Media: Russian radar did not notice the Israeli F-35

TASS
PM17:36
Two Israeli fighters conducted a reconnaissance operation in Iran

Interfax
PM16:52
The media reported on the reconnaissance of Israeli aircraft in Iran, bypassing the Russian radar
Let's summarize. Of the eighteen top media outlets in the Russian Federation presented above, nine, that is exactly half, refused to use in their headlines a clearly unprovoked propaganda against Russia and, moreover, unverified version of the blind radar of Russian air defense. The rest, with varying degrees of rage and mockery at the address of the Russian Federation, carried this fake into the hats of their news. Personally, I was particularly struck by the following versions: the frankly mischievous headline of Lenta.ru ("Israeli fighters deceived Russian radars in Syria"), simulating the neutral objectivity of RBC's product ("the media learned about Israeli aviation reconnaissance in Iran bypassing Russian radars") and peremptory , in the spirit of the worst traditions of the agitprop, the version of "Look": ("The media:" Russian radars were not noticed by the Israeli F-35 ").
We will not over-generalize and draw too far-reaching conclusions. But in this particular case, we state that exactly half of the leading Russian editions noted in the tops of this topic came forward with positions (far from being patriotic) openly biased towards Russia and its armed forces. Moreover, this was done in spite of generally accepted standards, not even of high-quality, but simply conscientious journalism, which implies at least minimal verification of information from a clearly dubious source.
If not even half, but at least one-third of the mainstream press of the United States, approached with a similar measure of bias and hostility towards their country, America's song would have been sung long ago. Russia, of course, is not so weak, but its safety margin is not infinite. Especially if it will continue to continue to hammer at a temechko dashing distributors of fried fakes.