The incident in England, in Salisbury, where Sergey Skripal and his daughter were poisoned with the poisonous substance "Novice", was the reason for the great international crisis. Although there are many questions in this poisoning, there are still no answers, starting with the main thing: how were people able to survive using chemical warfare agents? - what the Russian president drew attention to.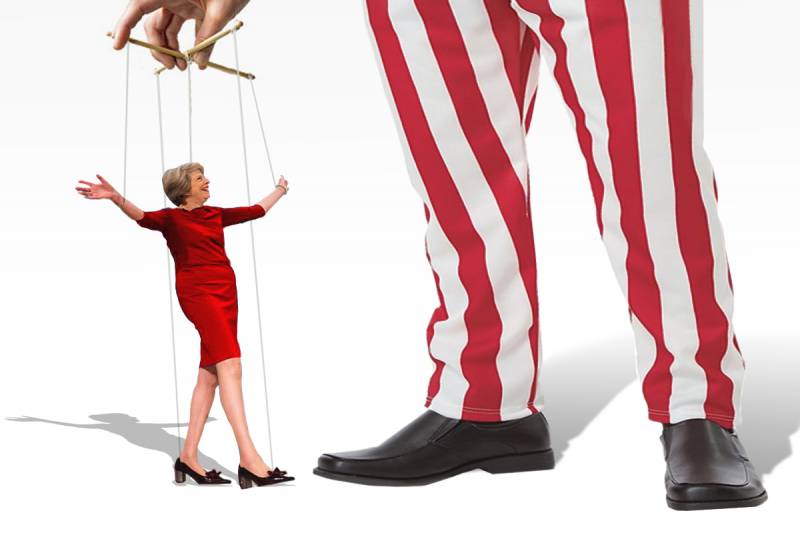 The unproven accusations of Russia by British Prime Minister Teresa May and Boris Johnson of using the alleged Newcomer OB in Salisbury are already lies, for they are unsubstantiated. Moreover, this lie says, with a high degree of probability, that England herself is involved in this poisoning, and therefore cannot provide evidence, and runs ahead of the investigation.
Why did England go to such a dirty provocation? We already know the answer to this question: Foreign Ministry spokeswoman Maria Zakharova noted that behind the British provocation are "powerful international forces", in other words, with a high degree of probability, it was ordered by them. The United States, along with the puppets, are sending 130 Russian diplomats in connection with this. US Permanent Representative to the UN Nikki Haley said: "The United States and their friends sent a signal to Russia because of its behavior." It turns out that as a friend of the United States about half of the EU countries and a few other puppets on the side, the total number of slightly more than 20. This is the whole "collective West" - this devil is not so terrible as he is painted!
But the following question arises: why did the oligarchic elite of the West go to such a false provocation with the "Skrypal case"? Even the famous vial of Secretary of State Colin Powell, which he shook at the UN, "rests": this time even the test tubes were not presented, they simply lied about what was used by the Novice public authority and accused: "Without any doubt, Russia is responsible." While Russia is not Iraq at all, it will be more expensive for itself to bomb it on a false basis. It seems that the provocation-operation "Skripal" is the answer of Russia, and personally Vladimir Putin, to the recent strategic proposals to the West.
1 in March, Vladimir Putin, during his speech at the Manezh, demonstrated on video new types of strategic
weapons
Russia, our "star wars". "They did not want to hear Russia before, let them listen now." This time, the West, or rather, its "in-depth state" heard Russia, and responded with an ultimatum provocation in Salisbury, without saying a word about the strategic arms talks.
Instead of a test tube by Colin Powell, England presented a presentation of evidence as "proof of guilt of Russia" - this is a new word in "big lie", however, this presentation contains the motif of Skriple poisoning. He is revealed by the title of the main third slide of the presentation: "A new phase of Russian aggression". That is, Violin and his daughter were poisoned to present a "new phase of Russian aggression". In this logic there is.
Thus, the "Case of the Violin" is only an excuse, and for its customers it does not matter that it is absurd, which one has already come to hand. Everything is not important, because the "Skrypal case" is used as a casus belli, a pretext for war, England and her friends, against Russia. War, as you know, will write it off. And before, Western countries often used lies as a pretext for war, and war, one way or another, wrote off this lie. Get at least the recent Iraqi war the United States and the same England.
Indeed, England acts like before a declaration of war: Russia presented an ultimatum "in 24 hours", then sent a large group of Russian diplomats, in the English "presentation of the charges" Russia was called a "hostile state." This is England's declaring Russian war by non-military methods.
According to Dmitry Symes, a famous American political analyst, "military and paramilitary methods of struggle" are already being used between the West and Russia. The Case of the Skripal is clearly a paramilitary method, since it includes a lie, which is one of the methods of warfare.
Russia promises to respond to the "collective West" mirror: send the appropriate number of diplomats, then, with a high degree of probability, accuse the West of Skripl poisoning in order to create a casus belli as an insoluble contradiction. As long as Russia speaks about this indirectly, if it says directly, no reconciliation will be possible in the foreseeable future. Therefore, Russia is still talking about a "provocation in Salisbury", which some third "international forces" can make, leaving the door to a resolution of the crisis.
In fact, the oligarchic elite of the West launched a new "strange war" (without hostilities) in Europe, this war was declared to Russia in response to Putin's speech on March 1. The goal is obvious - to inflict economic damage on Russia, undermining economic relations with the West. Will this only happen in 20 countries, when China and the whole non-Western world are left behind? This is another matter, but England, as the historically most anti-Russian force, is doing everything possible for that.
For the US, this "strange war" is beneficial both economically and politically, because it allows the rest of Europe to be brought to contain Russia, with the help of England. Therefore, Trump sags and sanctions, out of solidarity, the expulsion of 60 Russian diplomats, but silently, noting that "the fake media went wild."
In general, it is noteworthy that Trump first congratulated Putin on his election victory and dismissed Secretary of State Tillerson, who supported the British provocation. Then to him once again, apparently, came "deep state". Nevertheless, Trump remains the path to peace, because he congratulated Putin on his election victory.
The oligarchic elite of the West now needs a "small victorious war" with Russia in order to intimidate its satellites going out of control. For this, the financial and oligarchic top needs Russia to at least "admit its guilt", and thus agree that it stands below, that it is unequal to the West, that it, even in words, is also a satellite, a colony of the West. Our Foreign Minister Sergey Lavrov has already answered this: the colonial tone towards Russia is unacceptable.