RF Armed Forces of the Russian Federation strike at the strongholds of terrorists in Deir ez-Zor. Militarians with poisonous gas were detained in Idlib. Reports about it
FAN
with reference to Syrian sources.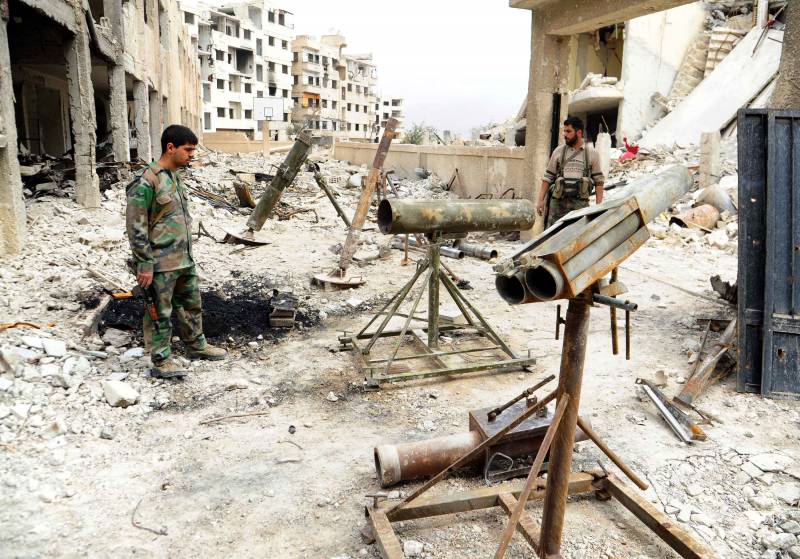 During the day in the city of Duma (Damascus province) there were battles between the Syrian army (CAA) and the opposition group Jaish al-Islam. Representatives of the Syrian army and the Russian Center for Reconciliation of the warring parties, once again called on the Islamists for dialogue and a peaceful resolution of the conflict. However, the militants refuse to accept the proposed conditions. During the sweeping of the Harasta quarters, soldiers of the SAR army found a caches of weapons of the militants, and in the former hospital of the militants several tons of medicines.
In the northern part of the province of Homs, there were again armed clashes between the Syrian Arab army and illegal armed groups. Government forces conducted mortar shelling of militant positions in the Al-Gantu area. On the eve of the Islamists "Dzhebhat an-Nusra" (banned in the Russian Federation) conducted a provocative attack on the dispositions of the SAR troops, thereby violating the cease-fire regime in the region. The servicemen fired back at the fortifications of jihadists in the vicinity of Ar-Rastan.
In the desert near the station "T-2" (Province of Deir-ez-Zor), clashes between pro-government forces and underground groups of the IG (banned in the Russian Federation) were recorded. In addition, the igilovtsy attacked the location of the allied CAA near Abu Kemal. The Russian Armed Forces of the Russian Federation continued to strike at the points of deployment of the IG in the area of ​​the line of demarcation of the forces of the Syrian army and the Kurdish militias. According to local sources, as a result of combat missions, several military facilities of terrorists were eliminated.
The Russian aerospace forces attacked the An-Nusra terrorist locations in Idlib province.
Aviation
attacked the fortified areas of the radicals in the vicinity of the village of Nakir. Attacks were also inflicted on objects near the settlement of Casabia. In addition, Syrian army soldiers detained two trucks carrying toxic gas cylinders. Cars moved in the direction of the position of supporters of al-Nusra. This incident gives the right to believe that the Islamists are preparing provocations using chemical weapons. A local source said that a total of 4183 people arrived from East Guta in Idlib (militants and their families).
In the north of the province of Hama, SAR government forces attacked the strongholds of the terrorist coalition. The fighting was recorded in the vicinity of the settlements of Al-Latamin, Kafr Zeta and Al-Zhanabr, as well as in the Az-Zakat area. According to sources, 3300 fighters and their families arrived in the region from East Guta.