The Admiral Kuznetsov aircraft cruiser will be equipped with a digital radio engineering flight control system
aviation
, reported
News
.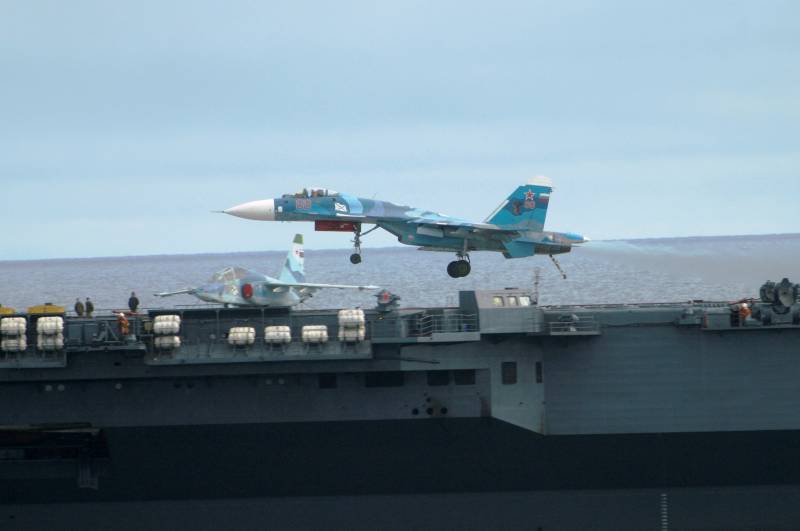 As the newspaper was told at the Main Command of the Navy, the new "radio-technical complex will be designed to provide short-range navigation for aircraft, control their movement, ensure the approach and the landing itself." The main task of the system is to automate the landing of aircraft on the deck of a ship.
According to the military, "MiG-29K / KUB carrier-based fighters already have all the necessary equipment, but the automatic landing mode has not yet been tested." The difficulty here is that "one moving object must be guided onto another - moreover, strictly along a given trajectory and with exceptional accuracy, otherwise you can damage the aircraft."
When in the 2000 for the Indian Navy, the former Soviet TAVKR Admiral Gorshkov was rebuilt, customers set the condition: "the ship must act around the clock, in any weather." So the modernized radio-technical complex "Resistor" was created.
The patriarch of our carrier-based aviation horizontal take-off and landing Viktor G. Pugachev said that he did not see anything more complicated and dangerous in his flight work than landing at night on a ship. The pilot acts at the limit of their capabilities. Therefore, the first landing is marked especially
told test pilot Hero of Russia Oleg Mutovin.
He added that the Resistor complex showed itself well on the Indian aircraft carrier Vikramaditya.
If in the process of modernization "Kuznetsov" equip with a similar system, it will be a big breakthrough. This will allow you to calmly and accurately land at night and in adverse weather conditions. The combat capabilities of the ship will increase significantly,
noted Mutovin.
Currently, the Indian Navy is successfully operating the Resistor complex created in the Russian Federation. The system allows landing in the director mode (at the same time, the pilot manually tracks the indicators leading him to a given trajectory). Until a certain point, it passes automatically, but at the final stage, when approaching the ship, the pilots take control.
The complex, which will be installed on Kuznetsov, will ensure landing in a fully automatic mode.