Information Agency
Bloomberg
with reference to informed sources, reports that British intelligence services continue to send "information on the case of Skripale poisoning" to their NATO colleagues. Do they really provide information on where in London a few minutes after the attempt on Skripale (if any), it became known what kind of antidote to introduce to the Russian spy and his daughter?
Recall that on the eve of the Russian Foreign Ministry called the incident in Salisbury a terrorist act against the Russians, and the name of the gas, which leads London, serial.
As Bloomberg notes, at the EU summit, British Prime Minister Teresa May, the one whom Julian Assandzh called the "full name", will try to push through the initiative to expel Russian diplomats and other European Union countries.
The statement of the British official is given:
May notes the need to take action against Putin's agents who pose a threat to peace and security in Europe.
From the material:
The head of the British Cabinet of Ministers will note that this was the first use of a chemical
weapons
in Europe, and it should not go unpunished.
The Foreign Ministry asks a simple question: where are the samples of the same substance from which, allegedly, the spy Skripal and his daughter were poisoned in Britain? London is not answering this question.
Meanwhile, European experts have suspected Britain that all this hype has been raised to divert attention from the final stage of the United Kingdom's exit from the EU - an exit that is actively supported by the United States.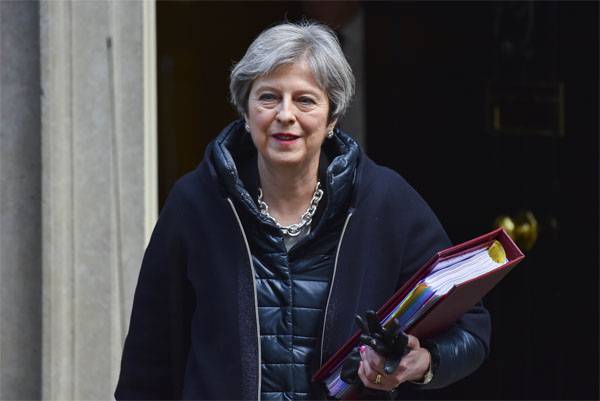 Mei in an image with a chain around her neck and a thick folder with texts written for her is quite consistent with the format of external management