International
aviation
Federation (FAI) registered the records set by test pilots of JSC "OKB im. A.S. Yakovleva "on a combat training aircraft Yak-130, it says
communication
the press service of the corporation "Irkut".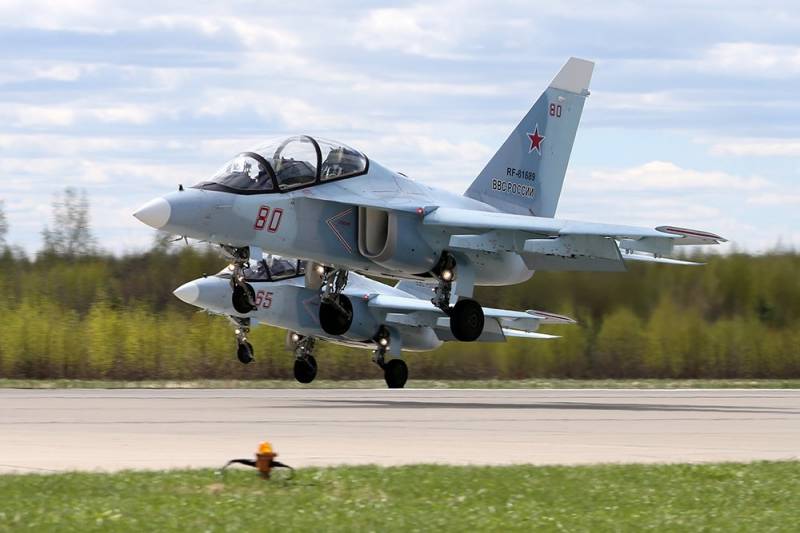 According to the information, "a series of record flights was conducted at the aerodrome of the LII. M.M. Gromova in the period from 17 to 26 in October 2016 g; The crews included test pilots Hero of Russia Oleg Kononenko, Hero of Russia Oleg Mutovin, Andrey Voropaev, Vasily Sevastiyanov.
The Russian and world record for the rate of climb to different heights with and without payload in the class of serial turbojet ground-based aircraft with take-off weight from 6000 to 9000 kg (subclass C-1f according to the classification of the International Aviation Federation), the release says.
The crew Kononenko and Sevastyanova, for example, set a record climb rate to a height of 6000 meters - 1 minute 42 seconds. A record climb rate was also set (Kononenko and Mutovina crew) up to 9000 meters - 2 minutes 44 seconds.
Record flights demonstrated the outstanding capabilities of the Yak-130 and the skill of our test pilots,
said the deputy general director of OKB A.S. Yakovleva "Hero of Russia Roman Taskaev.
Recall, the combat-training aircraft of the new generation Yak-130 is designed "for training and combat training of flight personnel, as well as combat use in simple and complex meteorological conditions for air and ground targets." According to its characteristics, it is close to the performance of modern fighters at subsonic flight speeds, which allows solving the problem of training pilots for 4-th and 5-th aircraft.