In the North Hama, the Syrian army used Tochka missiles for terrorists, reports
Rossiyskaya Gazeta
.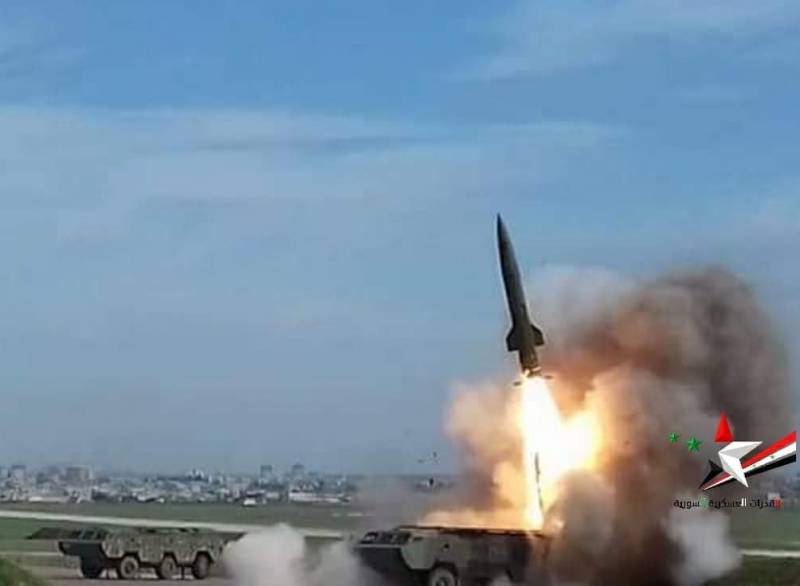 A rocket launch photo appeared on Twitter.
"It should be noted that tactical complexes, also known under the NATO code designation SS-21" Scarab, "were first used in Syria at the end of December 2012. Since then, several dozen missiles have been fired at the enemy. Such
weapon
used for targeted attacks on the most important goals: identified headquarters, large groups of enemy personnel, defense units, warehouses, etc. Sometimes a few blows were enough to significantly reduce the activity of the militants, "the publication says.
Complex "Point" can hit targets at a distance of 70 km. The mass of the rocket - 2 tons. The high-explosive part accounts for almost 500 kg.
Today, modernized Tochka-U complexes are also used in Syria. They are distinguished by higher accuracy and range over the distance to 120 km.
It is reported that the Syrian military set up an additional reservation on the installations themselves and transport-charging vehicles.
The complex is built on the chassis of a floating conveyor weighing 18 tons, which is equipped with a diesel engine in the 300 HP. Maximum installation speed - 60 km / h (by water - up to 8 km / h), power reserve - 650 km, calculation - 3 person.