Parachute systems for the landing of heavy equipment are not available to anyone in the world, except Russia, reports
RIA News
statement of the deputy commander of the airborne forces Vladimir Kochetkov.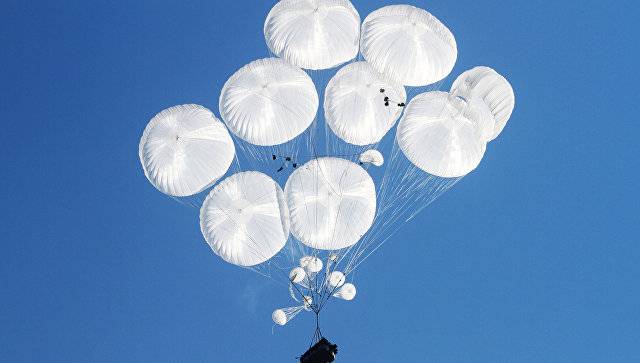 To date, the existing airborne equipment fully complies with the modern requirements of the use of the landing force,
Kochetkov specified in an interview with the newspaper "Red Star".
According to him, the paratroopers D-6 series 4 and D-10, spare parachute З-5, special-purpose parachute systems "Arbalet-1" and "Crossbow-2" are now used in the airborne forces; equipment and cargoes are parachuted on P-7 parachute platforms with the MKS-5-128Р multi-dome system, PBS-916 (925) multi-dome parachute systems with the MKS-350-9 multi-dome system. "
In addition, the Bakhcha-U-PDS parachute-free system, which was designed to drop combat vehicles with crews inside the military transport aircraft, passed the state tests.
Currently, development work is underway to create a Bahcha-U-PDS parachute-for-platform system designed to parachute modern airborne military equipment (BMD-4M, BTR-MDM) with a crew of military transport aircraft placed inside the machine
aviation
(BTA). The state joint trials are completed, this year the airborne landing assets will go to the troops,
told Kochetkov.
He also said that "in parallel with this, the development of cargo parachute systems (of various payloads), including a guided planning parachute cargo system (OCD" Horizontal-4000 "), is being carried out to drop cargo of up to four tons in a designated area with high accuracy and parachute PGS-1500 cargo system (OKR "TARA") for dropping cargoes with a flight weight of up to 1500 kilograms from Il-76 military transport aircraft. "
According to the general, in connection with equipping the Airborne Forces with new types of equipment "on the basis of the KamAZ vehicle, a unified multipurpose parachute platform (ROC Parachute) is being created, intended for parachute landing of weapons, military equipment and cargoes with a flight weight up to 18 tons from BTA aircraft" .
If we consider the issue of delivering modern and advanced weapons and military equipment to the rear of the enemy (BMD-4М, BTR-MDM and vehicles based on them), the creation of which in itself already enhances the combat capabilities of the airborne units, landing equipment ("Bakhcha-U-PDS") will increase the maneuverability of the landing technology and will allow to fully use it for its intended purpose in the landing area,
he said.
Kochetkov noted that "the ability to deliver personnel and cargoes using planning parachute systems over long distances and with a given accuracy will significantly increase the maneuverability of the special purpose unit."