Kurdish media write that Turkish
aviation
continued to strike at settlements in northern Syria, despite the silence regime announced with the support of the UN Security Council. The Kurds report that Turkey used attack helicopters to bombard the area in the area of ​​Genderes. Also, this area was subjected to mortar shelling by the so-called "Syrian Free Army", supported by Turkey.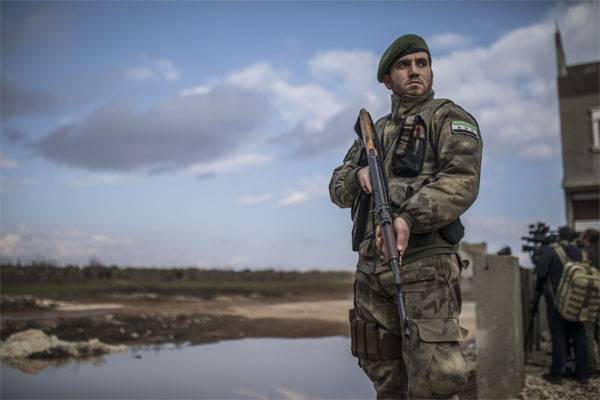 The representative of the "Syrian Free Army" in the area of ​​Azaz
Meanwhile, in Turkey itself, an article is being actively discussed in the Western edition of the Daily Beast, which reports on contacts of Kurdish armed formations not only with American military instructors, but also with Syrian government troops. The submission states that the coordination of the actions of Kurdish groups from the so-called Syrian democratic forces is carried out from the Iraqi Kurdistan region - from the base near the city of Kandil. It was noted that the United States could not have been unaware of the fact that the forces of the PIF were going to ask for military assistance from Syrian government forces. Recall that the CAA units a few days ago entered Afrin.
It is reported on the counterattacks of the Kurdish armed groups on the position of the Turkish army. So, the tactics of guerrilla attacks used by detachments consisting of women. One of these attacks was carried out in the area of ​​Azaz (Syria). The command of the Kurdish troops claims that during the attack at least 8 of the Turkish military and members of the so-called were killed. "Syrian Free Army". Ankara does not report the death of military personnel in the area of ​​Azaz.