The upgraded attack helicopter "Night Hunter" Mi-28HM is undergoing state tests, said Andrei Boginsky, general director of the Russian Helicopters holding company (Rostec), in an interview with Interfax.
We have in the forefront of Milevskaya theme - Mi-28. Now we are carrying out development work on the Mi-28HM. We have already entered the state joint tests; last year our helicopters handed over
- declared Boginsky.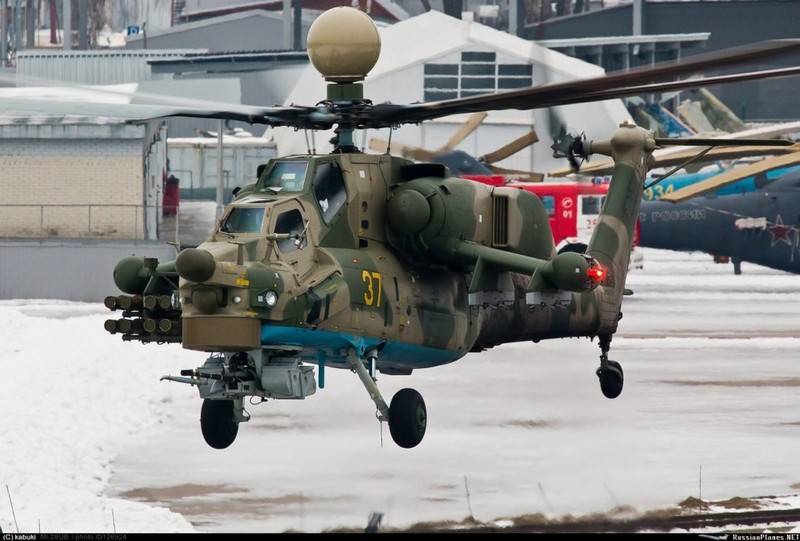 In December, the 2017 of the year in the Ministry of Defense of Russia announced the conclusion of a contract for the supply of Mi-28HM.
We decided that further contracting of the "twenty-eighth" vehicles will be conducted in favor of the Mi-28HM
- said earlier Deputy Defense Minister Yuri Borisov
According to the state contract with the "Helicopters of Russia" for the production of the installation batch, the first two Mi-28НМ will be manufactured before the end of 2018 of the year.
The helicopter received a laser on-board defense system and a new weapons control system, which allows the use of new types
aviation
weapons with radar and laser guidance systems at long distances
- noted Borisov.
The car acquired a modified fuselage, upgraded engines, an onboard complex of electronic equipment and a sight-sight system, a new auxiliary power unit, communications equipment with unmanned aerial vehicles.
- said the deputy minister of defense.
The attack helicopter Mi-28HM is the latest modification of the Mi-28Н "Night Hunter". Work on the new version of the helicopter began in 2009 year.