The Russian Defense Ministry has decided to change the composition of the 9 parade in May - this year for the first time the Red Guard convoy of Rosgvardi will pass across Red Square, which will replace the Ministry of Emergency Situations, according to
News
.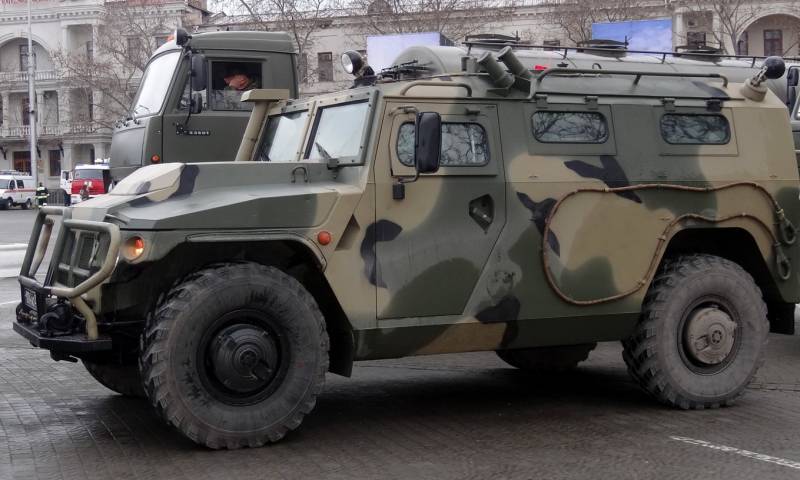 According to the plan of the parade, representatives of the Ministry of Emergency Situations are excluded from participation in the parade. The calculation of the Academy of Civil Defense is deleted from the already prepared document. On the margins there is a note "excluded by decision of the Ministry of Defense of the Russian Federation" signed by the Chief of the General Staff Valery Gerasimov.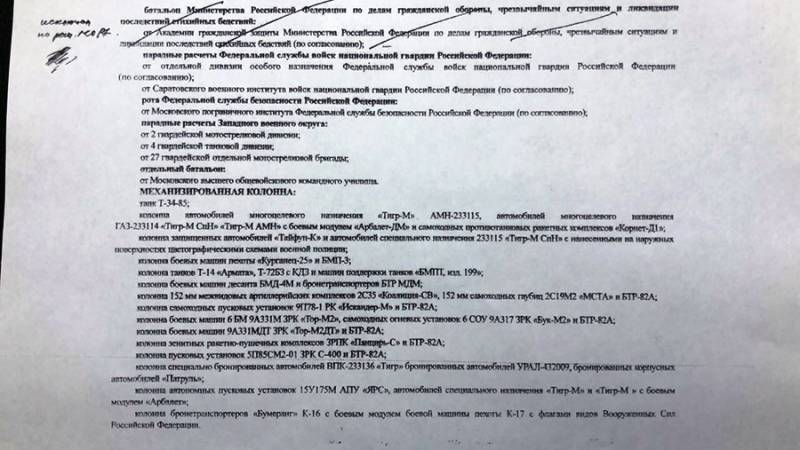 "In the course of the upcoming parade on Red Square for the first time, a column of armored vehicles of the Rosguards (Federal Service of National Guard, FSFVN) will be held. It will consist of armored vehicles "Tiger" (police version), Ural-432009 and "Patrol", "the article says.
According to military expert Vladislav Shurygin, the decision of the Ministry of Defense to suspend the Emergencies Ministry parade is due to the fact that representatives of this department actually supported the act of students of the Ulyanovsk Civil Institute who shot the controversial clip
aviation
.
The military department reacted very sharply to the hype around scandalous video recordings. Special indignation at the Ministry of Defense was caused by the fact that the "civilians" from Ulyanovsk were supported by cadets wearing cadets of the Academy of the Ministry of Emergency Situations, who shot a similar video. At the same time, the leadership of the department refused to punish the participants of the video. The first call was the appeal of the cadets of the Moscow Higher All-Arms Command School, which states that future officers cannot shoot obscene clips. Now the MOE calculation was removed from the parade,
told Shurygin.
The newspaper reminds that "the pseudo-erotic clip of Ulyanovsk cadets appeared on the January 16 network: its participants, dressed in underwear and elements of the cadet form, dance to the song Satisfaction". A couple of days later, a video of cadets of the Moscow Academy of Civil Defense, similar in content and aesthetics, was made public, trying to support Ulyanovsk residents.
After that, the cadets of MosVOKU posted on the Internet their video called "Men's Hardening", in which they called to observe the honor and dignity of the Russian officer.
It is more important for them to show off, to show some unnecessary shocking. And I do not see anything good in this. This is a misfortune for themselves, and for the whole university. No need to feel sorry for them, they are not worthy of it. And since they were "supported" in some other departments, it means that even there the bar was lowered below,
said the publication of the former commander of the VKS General of the Army Viktor Bondarev.