A military-practical conference on the results of the completed special operation in Syria was held at the National Center for Defense Management (NCUA). Together with President Vladimir Putin, it was attended by leaders and general designers of leading defense companies, according to
News
.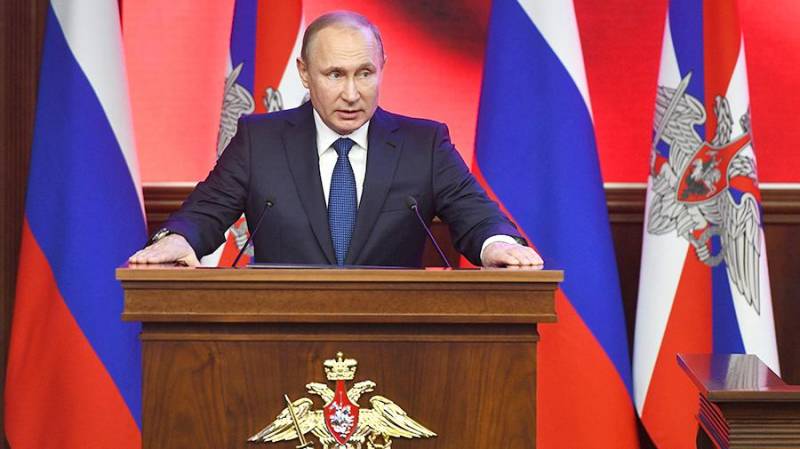 Application of our
weapons
in Syria, it convincingly showed that, by its equipment, the Russian army is now one of the leading armies in the world. And in a number of weapons systems we have no equal
said Putin during his speech.
He noted the active participation of the Russian defense industry in fine-tuning equipment directly in the combat zone.
For all the time of the operation at the Khmeimim airfield and at the port of Tartus, more than 1,2 have been visited by thousands of representatives from 57 of defense companies and scientific organizations. Thanks to their work, 99% of all identified malfunctions of military equipment and weapons were promptly eliminated.
the president said.
He thanked all the workers in the Russian defense industry for their work and contribution to strengthening the country's defense.
Be sure to think about how to mark the best workers in the industry,
promised the Russian leader.
According to the Ministry of Defense, (in Syria) 215 of modern and promising types of weapons were used, as well as most of the samples of military equipment currently used in the troops
he said.
Putin noted the positive experience of the combat use of precision weapons, including the Caliber and X-101 missiles.
Now we have to make a qualitative step forward. This, including the issue of equipping troops with shock, reconnaissance weapons systems of a new generation,
added on.
A representative exhibition of the most modern Russian armaments and military equipment was organized for the conference at the center. The main goal of the exhibition is to familiarize the leaders of the defense industry with the latest products from their subcontractors. Considerable attention was paid to the equipment and weapons of the Special Operations Forces.
In an era of turbulent technological change in the world, we need to ensure Russia's leadership and indisputable advantage in the military-technical sphere,
stressed the president.
He called on the OPK leadership to carefully analyze how Russian armaments and equipment showed themselves in different situations, and, basing on the experience gained, create new promising models.