A strategic drone of the US Air Force RQ-4B on Wednesday made its next many hours reconnaissance flight along the demarcation line in Donbass, reports
Interfax
messages from Western sites tracking military movements
aviation
.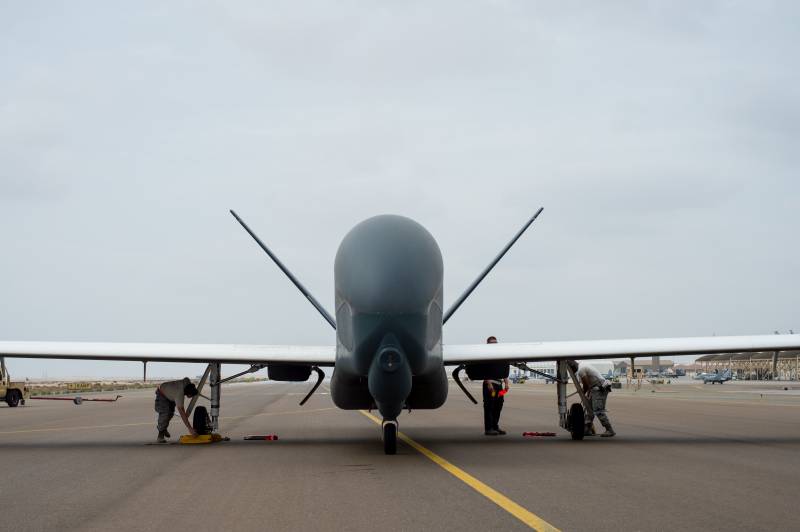 According to the information, "the American long-range drone with the hull number 10-2043, which departed from Sigonella airbase in Sicily, cruised almost all day from north to south along the demarcation line in Donbass, without crossing it."
The UAV "flew at an altitude of about 15,5 thousand meters and a speed of 600 km per hour."
It is noted that taking into account the intelligence capabilities of the RQ-4A, the Global Hawk could observe the entire territory of the Donetsk and Lugansk republics, as well as a large part of the territory of the border regions of the Russian Federation.
At the same time, the UAV flew several times "at a distance from 40 to 60 km to the areas of Belgorod, Voronezh and Rostov regions of Russia bordering on the Lugansk region." At that moment he was above the Novopskovsky district of the Lugansk region of Ukraine.
The drone entered the airspace of Ukraine from Romania and continued to fly east over the Kirovohrad and Dnepropetrovsk regions to the Donetsk region.
Help Agency:
"The RQ-4A Global Hawk, which carries a high-resolution camera, an infrared sensor and a radar to track moving objects, is designed to conduct strategic aerial reconnaissance to a depth of 300 km on enemy territory. When flying at high altitudes, Global Hawk is able to survey large areas, carry out high-resolution point targets and transmit intelligence to real-time command via satellite communications. "