The status-6 underwater swimming apparatus developed in the Russian Federation with a nuclear warhead with a capacity of up to 100 megatons is a challenge that the US Navy does not have yet to answer.
Lenta.ru report
Statement by Senior Researcher at the Heritage Foundation's Institute for Defense Programs, retired US Navy officer Thomas Calender.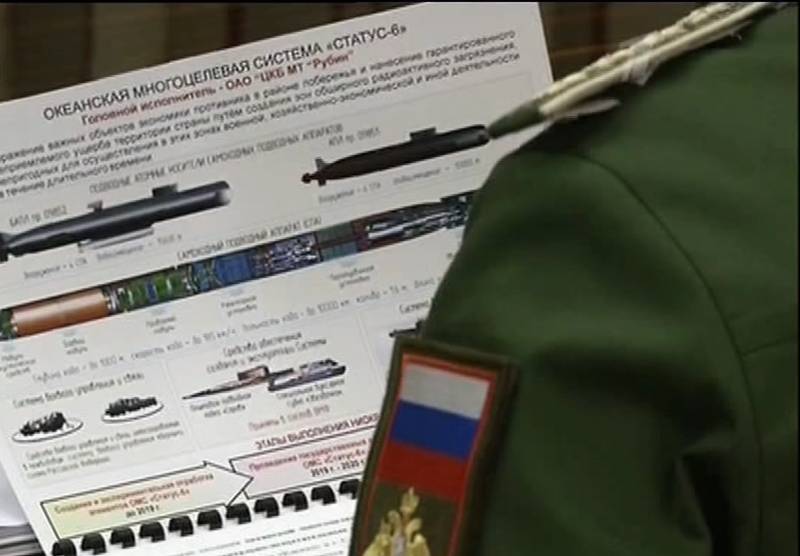 Taking into account the maximum speed of the "Status-6" more than 29 meters per second and a depth of more than a kilometer, this is a difficult goal to destroy with the help of the current
weapons
,
Callender told The National Interest.
According to him, the United States has "Mark-48 torpedoes, which, with a maximum range of 55 kilometers and an immersion depth of 800 meters, are not designed to destroy the" Status-6 "".
This means that if the Russian torpedo were located near its maximum depth, the main weapon of the Navy would not be able to reach and eliminate it,
stated the expert.
He added that the United States "for several years, provided the Pentagon is provided with the necessary funding, can find a way to eliminate the" Status-6 "." Callender called the P-8 Poseidon and P-3 Orion naval patrol aircraft the most preferred vehicle for this.
As the expert explained, the nuclear torpedo can be launched from a larger submarine heading from the Barents Sea, "it is intended to destroy the US East Coast."
Torpedoes, as it approaches and crosses the continental shelf, which is becoming smaller, easier to destroy with the help of existing weapons,
he said.
According to Callender, the Pentagon will develop such systems to counter the Russian threat.
Recall that in November 2015, slides from the presentation of Status-6, shown at a meeting with Vladimir Putin, got into the plots of Russian TV channels. From the presentation followed that we are talking about weapons of mass destruction, intended, inter alia, to "defeat the objects of the enemy's economy." Presidential spokesman Dmitry Peskov in connection with this leak promised to take "preventive measures to prevent this from happening again."
Earlier it was reported that the current prototype of the "Status" will be ready in 2019 year, and in the beginning of 2020-s it should be adopted.