The breakthrough of the sabotage and reconnaissance group of a conditional enemy to the Khalino airfield was blocked by a special forces unit during an exercise in the Kursk region, reports
press office
Western District.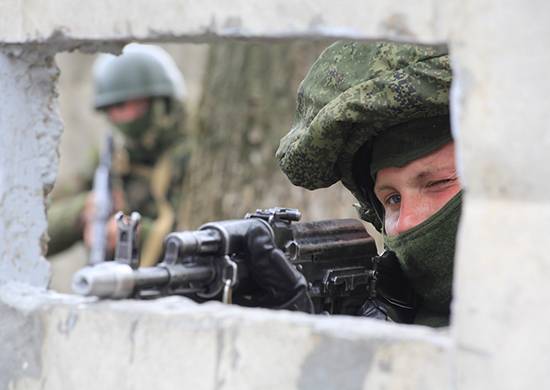 The enemy's goal was to destroy the runways and
aviation
techniques.
It is reported that "previously deployed from the Tambov region military personnel of a separate special-purpose unit took reserve aerodromes under protection, where the MiG-29MT and Su-30MM fighters were redeployed according to the flight tactical exercise plan."
Applying the Strelets reconnaissance, control and communications complexes, the close-range stations of the SBR "Fara" special forces uncovered the movement of the "saboteurs" and engaged them in battle. Targets were hit at distances to 700 by fire sniper pairs using SSS rifles, Kord heavy machine guns and an armored personnel carrier fire complex,
says release.
The tasks of patrolling the area, arranging ambushes and "secrets", making raids and capturing prisoners were also worked out.
"Flight-tactical exercises involving fighter regiment of anti-aircraft missile units and connecting Specialty held in Kursk region till January 26, take part in it more than 500 soldiers involved over 20 MiG-29SMT, Su-30SM, Su-34, SAM C-300 systems, "the press service explained.