The United States believes that Russia's arguments that himataks in Syria were committed not by government troops, but by terrorists are unprofessional and misleading, according to a document sent to the UN by the US Permanent Representative to the world organization Nikki Haley.
Haley noted that Russia had questioned the impartiality and reliability of the investigations conducted by the OPCW-UN CMP and the professionalism of the staff.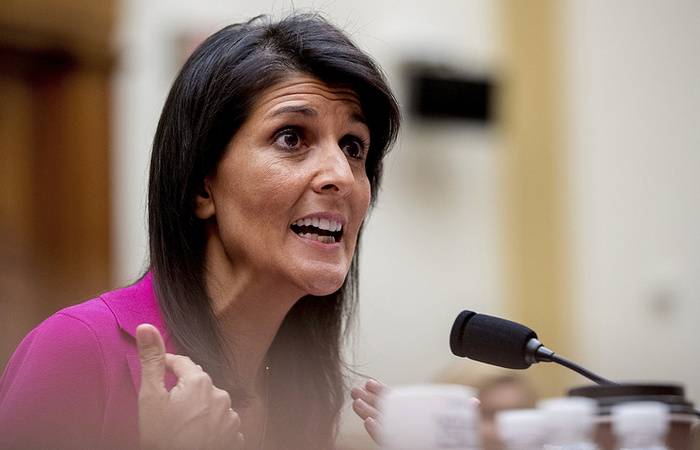 Russian arguments are misleading, they are unprofessional and sometimes completely false. Apparently, they represent a deliberate attempt to bring confusion and protect the regime (Syrian President Bashar) of Assad, which uses chemical
weapon
- TASS transmits the text of the document.
In addition, the document mentions statements by the Director of the Department for Non-Proliferation and Arms Control of the Ministry of Foreign Affairs of Russia Mikhail Ulyanov that the sarin used in Syria could be of Iraqi or Libyan origin.
It's impossible. Russia has not provided any evidence to support this. Libya abandoned the production of sarin after the first attempts in the 1980-s. The remains of Iraqi ammunition with sarin were sharpened in a bunker, and when they were checked for the last time - 15 years ago - they contained no more than 10 – 15% sarin
- said the American side.
Also in the letter, Moscow's position is disputed that the use of chemical weapons is only beneficial to the militants.
Lying. We believe that the attack on Khan-Sheikhun was carried out in response to an opposition attack in the north of the province of Hama, which threatened the infrastructure of the Assad regime, including a key military airfield
- said the American side.
Recall that in April 2017, the United States, accusing Damascus of using chemical weapons in Khan Shaykhun, fired missiles at RAF Shayrat Syria. At the same time, Damascus states that the incident with chemical weapons in Khan-Sheikhun was completely fabricated by militants.
The Russian Foreign Ministry said that Moscow has information that the bombing of a projectile with sarin in the Syrian Khan-Sheikhun in April was made by terrorists.
The Foreign Ministry has repeatedly pointed out the bad faith of the OPCW-UN mechanism during the investigation. In particular, Moscow in April persevere immediate dispatch inspectors to Khan Shaykhun and the airbase Shayrat, Western countries have blocked a draft proposal by Moscow making.