Ambassadors of the Russian Federation and the Islamic Republic of Iran were summoned to the Ministry of Foreign Affairs of Turkey. As a reason for calling ambassadors "on the carpet", the Turkish side refers to the attack of the Syrian government forces in Idlib, where the de-escalation zone is located. The Turkish authorities claim that the CAA has violated the de-escalation zone.
The official release noted that Turkey appeals to Russia and Iran to force Bashar Assad to respect the ceasefire in the previously declared demilitarized zones of the SAR.
Official Damascus replies that the main forces of the international terrorist group "Dzhebhat al-Nusra" (* banned in Russia) are in the province of Idlib, and the army intends to destroy terrorists in Syria to the bitter end. At the same time, in Damascus they make it clear that the terrorists of "Al-Nusra" use the proclamation of the de-escalation zone in order to build up their military potential in Idlib and from there to carry out military operations against the troops of the Syrian Arab Republic.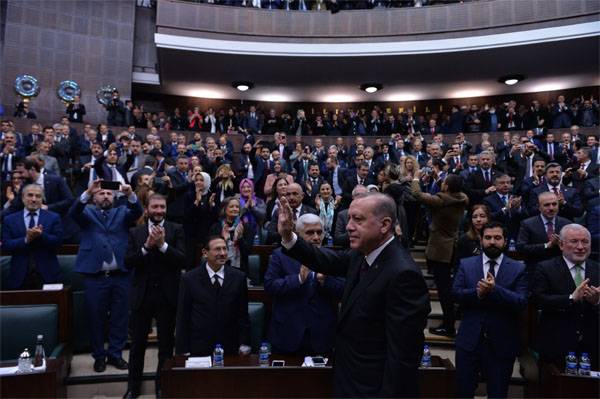 In the photo - the president of Turkey with his fellow party members.
It is noted that in the province of Idlib, there has recently been a growing number of armed clashes between various militant groups that are trying to divide spheres of influence, declaring themselves to be "moderate opposition". At the same time, the largest groups of "moderate" refuse to add up
weapon
and go to a full-fledged political process.
The Ministry of Defense of the Russian Federation, meanwhile, reported that the attacks by drones of the Khmeimim air base of the Russian space forces were carried out precisely from the territory of Idlib province.